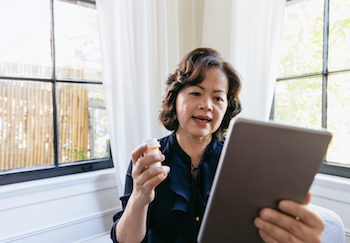 There's no denying that the coronavirus (COVID-19 pandemic has forced us to change the way we do things. From drive-by birthday parties to homeschooling and Zoom family reunions, we're adapting to the limitations of social distancing the best way we can — even if it means getting out of our comfort zone to try something new. This includes using new methods to receive routine medical care.
What Is Telemedicine?
Telemedicine is using technology to provide patient care remotely instead of doing a face-to-face visit in a clinic. Although the premise may be new to some, healthcare systems like UVA have been using telemedicine to virtually connect patients and caregivers for more than two decades.
We've used it primarily as a way to serve patients in remote locations and connect facilities and primary care offices to UVA specialists. But telemedicine has become a necessity for many more people because of the quarantine. Healthcare providers can now offer virtual visits, connecting with patients via video chat or by phone whenever possible.
UVA Health has re-opened clinics and is ramping up access to both inpatient and outpatient care. However, telemedicine is still an option for people whose medical needs do not require them to see a provider face-to-face.
5 Myths About Virtual Medical Appointments
We asked primary care provider Ira Helenius, MD, to help set the record straight about virtual medical appointments.
Myth: I'm not computer-savvy, so I cannot participate in a virtual medical appointment.
Fact: "If you can FaceTime or Skype with your family and friends, then you can probably have a video visit with your provider," says Helenius. All you need is a device that has audio and video capability and an internet connection that supports video streaming.
Most laptops have built-in cameras, microphones, and speakers. And almost every smart phone has that, too. "Many patients find that using a mobile device, such as a phone or a tablet, sounds better and is easier to move around to show the provider different areas of the body," says Helenius.
Providers may use different applications or programs to do video visits. Each platform has a different process to get started, but "medical staff and providers will help you navigate as we all get used to these processes together," says Helenius. "The most important thing is to know that your provider will do everything they can to connect with you."
Video visits are preferable, especially when the provider needs to see you to help make a diagnosis. "A rash, a swollen knee, or even a sore throat would be good reasons for a video visit," says Helenius. "The ability to watch you move and breathe also can be very helpful for certain illnesses. Additionally, facial expressions and body language can help give a better sense of your wellbeing and how you're feeling overall."
If you don't have a suitable device or a good internet connection, phone visits are a good low-tech option. These conversations will take the place of a regular office visit. They're likely to be longer and more thorough than the usual phone conversations you have with your provider, according to Helenius.
Of course, if you or your provider feels your medical concerns can't be addressed virtually, then you can be seen in person. This may be a clinic, an urgent care center, or the emergency department. Your provider will help you determine the best option for you.
Myth: Discussing personal health information online or on the phone with my doctor isn't safe.
Fact: Because of the increased demand for remote care resulting from the COVID-19 crisis, the Health Insurance Portability and Accountability Act (HIPAA) requirements aren't as stringent.
This means care providers can use applications and tools that are more readily available and easier for patients to access. If you have any question about the privacy of your connection, talk to your provider.
To protect your privacy at home, try to find a private place to have an uninterrupted telemedicine video visit with your provider, suggests Helenius. "If you have someone else in the room with you, it's always a good idea to let the provider know, so they can tailor questions for privacy," she says.
Myth: My provider cannot offer the same level of care over the phone or on video chat.
Fact: There's no doubt that meeting with a care provider virtually is a different experience than having a physical exam. Rest assured that many minor health problems and chronic illnesses can be treated virtually with the same high level of care, says Helenius.
The most important thing is to reach out as soon as possible if you're having a medical problem. The care team will help determine whether you should seek in-person care or schedule a virtual clinic appointment.
Myth: My health insurance will not cover a virtual visit.
Fact: Like all of us, health insurance companies are adapting to the current crisis. As a result, many are now covering telemedicine visits.
The Centers for Medicare and Medicaid Services (CMS) recently made significant changes to their policies to include coverage of virtual medical visits, including both phone and video appointments. Many commercial insurers are doing the same. To confirm your coverage, call your health insurance company directly.
Don't Delay Seeking Treatment

Get the care you need from UVA. Learn more about scheduling a virtual visit.
Myth: Virtual medical appointments are my only option now due to social distancing requirements.
Fact: UVA clinics are open. "Please call your clinic if you feel you need to be seen," says Helenius.
We're working to reduce the risk of coronavirus exposure for all patients and staff. This includes wearing masks and separating patients with respiratory symptoms.