Sending your poop in a box through the mail. It sounds like a kid's prank. But doing your at-home colon cancer test is 'adulting' on steroids. Yes, no one wants to do it. My kids were grossed out when I explained what the box was for. But here's why it's a must-do: It's potentially a very easy way to save your life.
Last year, I did the FIT test. I took a very small sample of my poop. And mailed it to a lab for testing. This year, I graduated to the Cologuard® at-home colon cancer test. The sample I sent was much larger.
I didn't know what to expect. Would it be complicated? Easy to follow? Here's the verdict. It was easy peasy. Nothing like the stress of trying to follow Ikea furniture instructions. And definitely easier than following at-home COVID test instructions.
Here's what I learned on what, and what NOT, to do. You only get one Cologuard box. And getting accurate results could mean you catch cancer in time to treat it.
My Surprising Cologuard Experience
My experience with the Cologuard at-home stool test was pretty smooth. I was pleasantly surprised. I didn't have a single moment where I was unsure what to do next.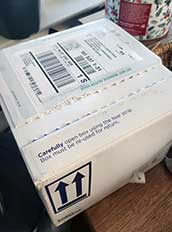 First, the day after my provider ordered it for me, I got text messages telling me that my test kit was on its way. I felt reassured to know the prescription went through.
The box arrived. And everything — the exterior labels, the directions inside, the labels on all the pieces — were all clear and understandable. The whole thing was, as my dad used to say, idiot-proof.
I got the test results back just a few days after I put the box in the mail. I wish everything I did was this quick, easy, and hassle-free. Now for the nitty-gritty part.
6 Things to Avoid During an At-Home Colon Cancer Test
Still, there were things I wish I'd known before I opened up that box. Maybe what I learned will be obvious to others. But I'm not the most practically minded person. So here's my advice.
With these tips, plus the already excellent Cologuard experience, you're sure to have a successful at-home colon cancer test.
#1: Don't put the kit's pieces on a surface that's not in the bathroom.
Not thinking, I used our tiny bathroom. It doesn't have much counter space at all. So I had the test kit laid out on the dining room table. I wanted to spread everything out to get it right.
This worked fine, at first. But then I found myself scurrying between bathroom and dining room like a squirrel transferring nuts.
#2 Don't use a dirty toilet.
Thankfully, I had a very shiny and fresh toilet at my disposal. But you have to raise the toilet seat to set in the collection holder.
A gross one would have ruined my focus.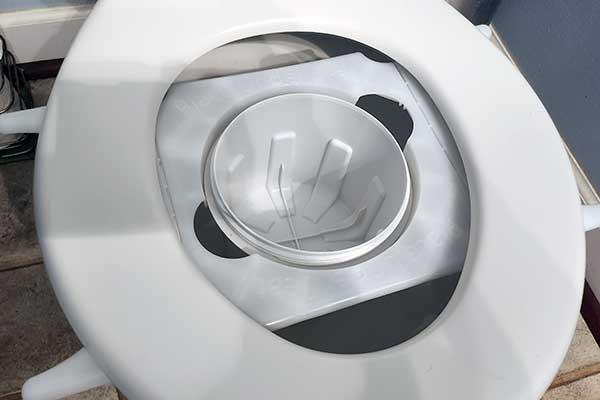 #3 Don't allow your dog to participate.
Maybe 'participate' is an exaggeration. But I KNOW I'm not the only dog owner who finds her canine friends cramming themselves into the bathroom every time she visits — especially those COVID-quarantine puppies, with you every minute of every day.
But I'm telling you. I was really intent on collecting a clean, fur-free specimen. Having my dog at my feet was not helpful. I should have put him in his crate.
#4 Don't take too long to get the sample back.
This one is super critical. And believe me, the test kit had plenty of reminders about this.
The nice thing is, you have a few months to do the test. The not-nice thing is, if you're a procrastinator, you might put it off. And forget the deadline. Then miss the deadline. You'll have to start all over again, with your doctor.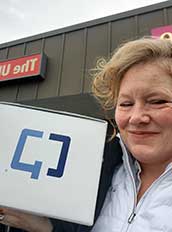 #5 Don't do the test if you're on your period.
This is perhaps the one piece of information I didn't get until I'd already opened the box and started the sampling process. So, head's up: If you're bleeding at all, wait until you aren't. For an at-home colon cancer test, your sample needs to be as pure as possible.
#6 Don't ignore the instructions.
Like I said, the directions are easy to read. The font is big. The instruction booklet is colorful. And the to-do steps are easy to follow.
But don't get cocky and skim the guide. This is not an intuitive thing you can vaguely guess at and meet the mark. Read all the words on the whole thing — both in the box and on the external shipping labels.
I almost messed up when I started to skip a page. I wrongly thought the next action was obvious.
Ready to DIY?
If you're 45 or older, ask your provider to order you one.
Don't NOT do it!
There's no reason NOT to get an at-home colon cancer test. This whole adventure was:
Fast
Free
Easy
Potentially life-saving
That's right: As of this writing, most insurances cover both a stool-based test and a follow-up colonoscopy.
And seriously, when I went to drop off the box at the UPS store, the person behind the counter didn't bat an eye. She just told me to set it down and that was it. No need to pay or track the thing, all of that is already on the box. It took 2 seconds.
These tests actually work. And if they find something in your poop, they alert you right away to go get a colonoscopy. During that procedure (not quite as fun as Cologuard, I admit), if your doctor finds a polyp, or little bump, in your colon, they can take them out right then and there. That polyp could turn into cancer. But now it's gone. You don't have to worry.
Speaking of alerts: I got a text message, as well as a note in MyChart, that my test kit had arrived. A couple days later, the messages gave me the all-clear. Whew!
If I can do it, anyone can.