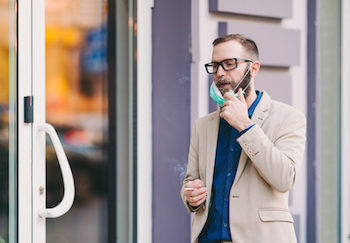 Quitting smoking is always a good idea. But with the coronavirus (COVID-19) infecting millions of people worldwide, now is the time to stop smoking for good.
"Even though we are still in the midst of the COVID-19 pandemic, early data shows that smoking has been associated with negative outcomes related to the severity of COVID-19," explains nurse practitioner Aimee Strong.
Why Smokers Are at Greater Risk of COVID-19 Complications
Smoking remains the most preventable cause of death. It has been attributed to a variety of illnesses, including heart disease, stroke, and lung cancer. According to Strong, smoking may put you at increased risk for complications of COVID-19 as well. Here's why:
Smoking weakens the immune system, which makes smokers more susceptible to infectious diseases.
Smoking damages the protective lining of the lungs so that the lungs don't function as well; this may increase your risk of developing the more severe respiratory illnesses and pneumonia associated with COVID-19 infections.
"A recent study showed that smokers were not only more likely to have severe symptoms of COVID-19, requiring a ventilator, but were also more likely to die from the virus," Strong says. "With the knowledge that people who smoke and vape suffer worse outcomes from the virus, we need to encourage smokers to work on decreasing, and ultimately stopping, smoking altogether."
Quit Now Virginia: Free Help with Quitting Smoking

This free resource provides personalized cessation coaching, a helpline, replacement therapies and more. Call 1.800.QUITNOW.
How to Stop Smoking
There's no denying that quitting smoking is a challenge. In fact, most people try to quit smoking cigarettes four or five times before it sticks, according to Strong. So if you or your loved one can't figure out how to quit smoking for good, you're not alone.
Tools to Help You Quit: Medication, Acupuncture and More
No one strategy works for everyone, so Strong says it's important to try different approaches. Some of the most common include nicotine replacement therapies, such as:
Nicotine gum or lozenges
Nicotine patches
Prescription medications that help curb cravings
Most people will find it's necessary to address the behavioral aspects of smoking in addition to the chemical dependence, however. This means altering habits, which can be aided by hypnosis or acupuncture. "We encourage anyone who is thinking about quitting to seek counseling and medications, as a combination of both have higher rates of success," says Strong
Quitting abruptly — the "cold turkey" method — can work if you have a strict plan in place.
Ready to quit? Read more about these smoking cessation methods to find the best solution for you.