The Rice Krispie treats of my childhood bring to mind a number of images – the giant bowl my mom used to make them, the hard-to-cut consistency they took on if we didn't eat them in a day or two, and the sticky, sweet marshmallow mixture.
So I questioned — can you make a healthy Rice Krispie treat?
And, more importantly – can you make a healthy Rice Krispie treat kids will eat? Enter this healthy peanut butter cereal treat recipe.
This recipe is part of our Healthy Snacks for Hungry Kids digital cookbook promotion, which is a perfect fit for my 5-year-old son. I can't tell you how often he requests 'snack dinner' or 'snack lunch' these days.
Easy No-Bake Recipe that Kids Can Make
Most everything in this simple krispie treat recipe was in my pantry or fridge. We were ready to go after a quick cereal grocery order.
With just six ingredients and six steps, this recipe is perfect to make with younger kids, as it involves measuring, mixing and microwaving. I'm guessing older kids can make it on their own, provided they can handle the microwave and hot peanut butter safely.
Perhaps the best part of this recipe – beyond the healthy spin to a favorite childhood dessert – is that it gave me an excuse to talk about food, nutrition, measurements, and math with my son while doing a 'fun activity,' as he described it.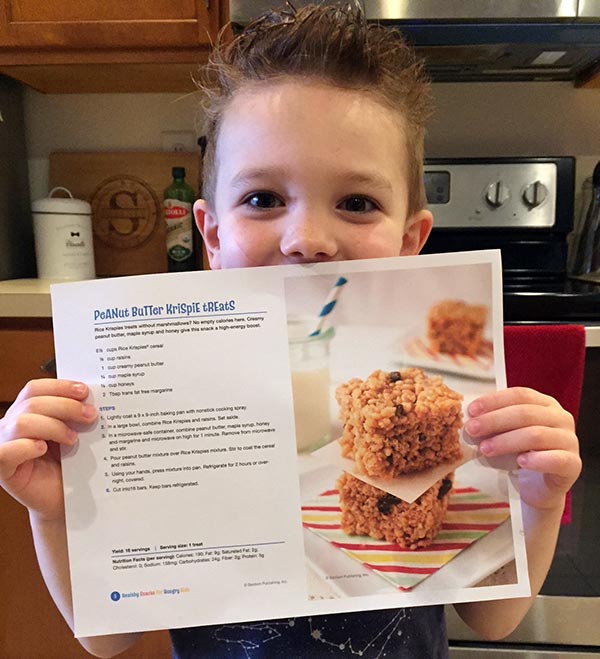 It also allows for some swaps and add-ins. We added in ¼ cup of dried blueberries, which pleased my son.
A Tasty Afternoon Treat
Get the Peanut Butter Krispie Treats Recipe
Get this and other healthy kid-friendly recipes when you subscribe to our weekly email.
Our easy morning activity went into the fridge and was ready by early afternoon. After three hours in the fridge, the treats held together when cutting but were still soft and chewy.
My son was more into the raisins and blueberries (he's not much of a PB&J fan either) than the cereal portion. But my husband thought the treats were excellent. He noted that while they clearly weren't the original Rice Krispie treat of our childhood, it was a delicious peanut butter treat that offered a sweet, salty twist on the classic.
While these were a bit too sweet for my liking, a few broken pretzels might provide a more salty-sweet option next time around.
I will definitely make these peanut butter krispie treats again for a crowd, given how easy they were.