2021 was another hard year. But our team of employees, students, and volunteers rose to the occasion, doing whatever it took to help our patients and our community. Here's one of our favorite stories that helped us make it through 2021.
When the Taliban overtook Kabul, Afghanistan, the U.S. began the largest air evacuation effort in American history. More than 60,000 Afghan refugees made the long journey overseas to cities like Philadelphia and Washington, D.C., in a matter of weeks. They traveled shoulder-to-shoulder aboard massive planes, each seating more than 350 people.
"These were people who had been living on military bases for weeks. They were carrying just a few personal belongings. Some were kids traveling alone. This was a radical change for all of them, and they were frightened," says UVA Chief of Population Health and Health Policy Arturo Saavedra, MD, PhD, MBA.
Saavedra was one of two UVA Health doctors who answered the call for medical volunteers to assist with the evacuation effort. "When they first began bringing Afghans to the U.S., there was a call to have doctors at the airport to care for the refugees upon landing," he says. "But they soon realized that these people were arriving in poorer health than they thought. So the Medical Society of Virginia sent a request for doctors who could assist on the planes."
"I got the email (from the Medical Society of Virginia) on Monday. I was on a plane on Thursday," says emergency medicine physician Sara Sutherland, MD. "It was a whirlwind."
Taking Their Skills to the Skies
Sutherland flew from Dulles International Airport to a base in Doha, Qatar. They stopped in Frankfurt, Germany, along the way to pick up a volunteer crew and supplies.
The refugees who boarded in Doha were dehydrated. Many were nauseous and dizzy. Some had a sore throat and unmanaged medical conditions. But Sutherland says that, fortunately, she didn't encounter anything extreme or unexpected. This was despite the COVID-19 pandemic, which was at its height then.
"When I was preparing for the trip, I thought about what people sitting in a hot warehouse for weeks might need. I put together a kit with medicines like ibuprofen and Zofran for nausea and an EpiPen just in case," says Sutherland. "I have worked as a trek physician in the Himalayas, and I was involved in earthquake relief in Haiti with a group from UVA. So I knew that I couldn't respond appropriately without the right tools."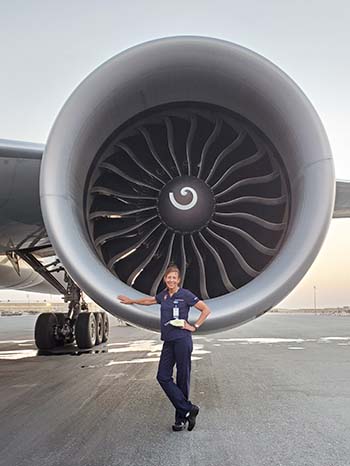 Gaining Perspective, Offering Hope to Afghan Refugees
Before departing for his two, 20-hour round-trip flights from Dulles to Germany's Ramstein Air Base, Saavedra met briefly with Sutherland. He got details on her experience and collected leftover supplies she didn't use on her flight. The medications came in handy. But as he interacted with the refugees, he found that his greatest resource — the thing these displaced families needed most — was compassion.
"Of course, we provided medical care, but just being thoughtful, smiling — basic human kindness — was comforting for them," he says.
For Saavedra, this human connection was impactful. So was the opportunity to see up close the resilience of families starting over with little or nothing.
Find the Specialized Care You Need
UVA provides ongoing care to the refugee community in and around Charlottesville.
"As physicians, we get used to what we see in our own universe, whether it's in clinic or in the operating room. This type of experience provides a wider perspective. And it's influenced how I care for patients," he says. "I've realized that we have to go beyond what we think is the right care. We have to consider what the patient can afford and what they can understand."
Saavedra and Sutherland agree this is an experience they would not have had without the support of UVA. "As a public institution, it's part of who we are to always be mindful of caring for those who need help. Not just those patients in our area, but redefining care to extend our reach further," Saavedra says. "UVA was incredibly supportive of my involvement in this effort and made it possible for me to participate."