Sana Syed, MD, MSCR, MSDS, is a UVA Children's pediatrician specializing in treating kids with digestive health issues (gastroenterologist) and conditions affecting the liver, gallbladder, and pancreas (hepatologist). She helps children dealing with celiac disease, inflammatory bowel disease, poor weight gain, and various liver conditions.
She is also involved in research to better understand and treat digestive health conditions in children.
MEET A CHARLOTTESVILLE-BASED PEDIATRIC GASTROENTEROLOGIST
We asked Syed to answer our 7 quick questions.
1. What has most inspired and shaped your approach to patient care?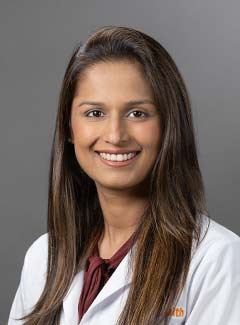 I think the biggest power of being a clinician is that you get to be told these really private, confidential stories by patients. That's a lot of trust they're putting in us. And I think for us to have invested so many years, myself and many of my colleagues, the entire point of that interaction is to share our knowledge in a way that our patients can understand that we're deserving of the trust they've placed in us.
2. What's your favorite part of your job?
I love kids — love hanging out with them. I love the research part and the clinical part, but, when I go see patients, I just love kids. They're fun!
3. What's your biggest fear when you're a patient?
Need Digestive Care for Your Child?
UVA Children's offers primary and specialty care for kids, including for digestive and gastric issues.
When I've been a patient, the times that I've found the hardest were when I felt that I wasn't respected, that my opinions didn't have value, and when the person sitting across from me did not have the time. There was actually a time when I went to a doctor's office and I asked a question, and the doctor looked at her watch. I was like, "That's awful."
I want to make sure that if I've taken the time to come tell you with something that's really bothering me and that I'm really scared about, worried about, that you explain that in a way that makes sense to me.
4. What do you do for stress relief?
I play guitar, and I love singing. I love hanging out and goofing around with my two boys.
5. Dogs or cats?
I'm an animal person. I love both cats and dogs.
6. What's the last movie you saw? Thumbs up or down?
So I saw Everything Everywhere All at Once and it's a huge thumbs up. It's amazing!
7. What's the best advice you've ever heard?
I think the best advice I've heard is to focus on being happy, because I think everything stems from that. And if you are happy, you will create an environment of positivity and happiness around yourself.
Being happy consists of many things, right? It's not just about professional goals, it's personal goals, too. And I think part of being happy also involves being kind to yourself.
So the best advice is to be happy. Focus on being happy.