A pediatric gastroenterologist at UVA Children's, Jeremy Middleton, MD, helps kids with diseases of the digestive system.
Meet a Charlottesville-Based Pediatric Gastroenterologist
We asked Middleton to answer our 7 quick questions.
1. What most inspired and shaped your approach to patient care?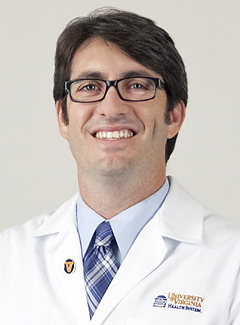 My approach to patient care is one where I take a family-centered approach and a patient-centered approach. I think that I'm good at listening. I think that I'm good at making a plan, both with assessment and treatment that takes into consideration the family and the patient's needs and desires. Then I move forward with a joint decision that makes the most sense for the medical needs and the family's needs.
2. What's your favorite part of your job?
Taking care of children is the one thing that inspired me to become a physician. I think that we have the hardest job. But it's also the most rewarding job, because we get to take care of not only children, but the families that take such good care of them.
In addition to that, one of the big reasons I came back to a place like UVA is to be a part of a great education facility. And so another really important part of my job, and the one that I take the most pride in, is being a clinical instructor, too. Being a teacher to medical students and residents and fellows as we take care of these kids together.
3. What's your biggest fear when you're a patient?
Like many other physicians, I don't like going to the doctor. I think there's always the fear that something bad is going to happen. For me, it's one of those things where it's usually my wife who's like, "Okay, buddy, you have to go and do all the things that you're supposed to, Mr. Doctor." But I think it's just the unknown that makes things unnerving.
4. What do you do for stress relief?
I have two boys who keep me very busy. A lot of my stress relief comes in participating in their activities — Boy Scouts, Taekwondo, and baseball. My wife and I are big foodies, so we get to experience the local cuisine of Charlottesville and love going out and preparing our own food. But mostly, it's taking advantage of all the fantastic hikes and the outdoor activities that Central Virginia has to offer.
Digestive Health at UVA Children's
Our children's gastroenterology and GI surgery care is ranked among the best in the country by U.S. News & World Report. 
5. Dogs or cats?
Definitely dog. We have two of them, wild golden retrievers who shed all over the place and have the best entry greeting of any dogs I've met.
6. What's the last movie you saw? Thumbs up or down?
The latest movie in the theater that I saw was Top Gun, and I have to say it's a pretty awesome story. I'm a Navy brat, and my dad was on a cruise on the Enterprise and was there when they filmed the first Top Gun in 1986. And so I had a chance to sort of relive those moments in watching this most latest Top Gun.
7. What's the best advice you've ever heard?
The best advice is not anything that anyone has told me. The best advice is what I've experienced, my mentors and the people around me that I aspire to be, looking at their actions.
My father has always been somebody I looked up to. He's somebody who always has a smile for people and who's willing to embrace anybody no matter what. My senior partner, he's given me lots of words of advice, but it's his attitude toward patient care and his attitude as a teacher that's inspired me to come here and to do the things that I'm doing. I like to follow in the footsteps of people who have really inspired me to get where I am today.