Alexandra Zubowicz, MD, is a weight-loss (bariatric) and general surgeon at UVA Health Surgical Care Haymarket and UVA Health Surgical Care Warrenton. Having practiced general and bariatric surgery in the Washington, D.C., area for nearly a decade, Zubowicz specializes in helping patients with weight loss and hernia repair through open and robotic surgery.
Robotic surgery involves very small incisions made to insert surgical instruments and tiny video cameras into the body. Robotic arms control the surgical instruments, mimicking the natural movements of the hand and fingers, to make surgery accurate.
Meet a Northern Virginia-Based Weight-Loss & General Surgeon
We asked Zubowicz our 7 quick questions.
1. What has most inspired and shaped your approach to patient care?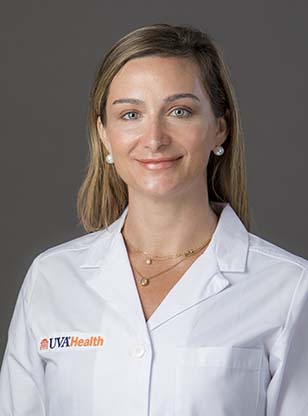 Personal experience. I try to treat my patients the same way I would want one of my family members to be treated.
2. What's your favorite part of your job?
Being in the operating room — I guess it's good I became a surgeon! Secondly, seeing my bariatric patients six months to a year after surgery and hearing about how much more they are loving life.
3. What's your biggest fear when you're a patient?
Again, personal experience — once, a provider forgot to remove my NPO (no food or drink by mouth) order after not being able to eat for two days! I snuck down to the hospital cafeteria anyway.
4. What do you do for stress relief?
Exercise. Although, I rarely get to do it these days with a toddler and baby, I still love getting outside and going for a run or getting on my Peloton. I always feel so much better afterwards.
Thinking About Weight-Loss Surgery?
We can help you get started.
5. Dogs or cats?
Definitely dogs, and definitely rescue ones.
6. What's the last movie you saw? Thumbs up or down?
Elvis. Thumbs up, but I only saw half before the rental expired. I guess that's the new normal when watching movies with screaming kids.
7. What's the best advice you've ever heard?
Always get it in writing.