Based in Northern Virginia, Alison Goldenberg, MD, is a UVA Health breast cancer surgeon. She performs lumpectomies and mastectomies to remove breast cancer.
Meet a Northern Virginia-Based Breast Cancer Surgeon
We asked Goldenberg our 7 quick questions.
1. What has most inspired and shaped your approach to patient care?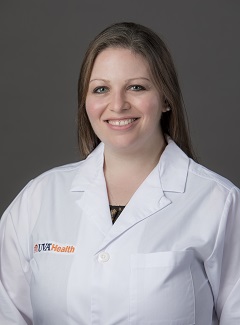 I always wanted to be a surgeon, but my experiences in general surgery residency steered me toward breast surgery. I found that many branches of surgery are somewhat impersonal and repetitive. I found breast surgery to be so much more patient-centered and unique.
2. What's your favorite part of your job?
Meeting the patients. My goal is to make patients feel comfortable with their decisions and form long-term relationships.
3. What's your biggest fear when you're a patient?
Doctors make the worst patients! My biggest fear would be trying to control the situation too much.
4. What do you do for stress relief?
I spend time with my husband and son at home. I also play the piano, paint, and like to try new recipes.
Facing Breast Cancer?
Find expert, compassionate breast cancer care at UVA Health.
5. Dogs or cats?
I never had dogs or cats growing up, but I did have a guinea pig! But as an adult I would like both a cat and a dog at some point.
6. What's the last movie you saw? Thumbs up or down?
Glass Onion — would recommend!
7. What's the best advice you've ever heard?
Choose a job you love, and then you'll never have to work a day in your life.