Kathleen Haden, ANP, is a certified adult nurse practitioner (ANP) at UVA Cancer Center. Before coming to Charlottesville, she worked with patients at the National Cancer Institute at the National Institutes of Health (NIH) in Bethesda, MD, and Memorial Sloan Kettering Cancer Center in New York, NY.
Haden is also involved in clinical research and helps patients understand their pancreatic cancer risk at the High Risk Pancreatic Cancer Screening Clinic.
Meet a Charlottesville-Based Cancer Nurse Practitioner
We asked Haden our 7 quick questions.
1. What has most inspired and shaped your approach to patient care?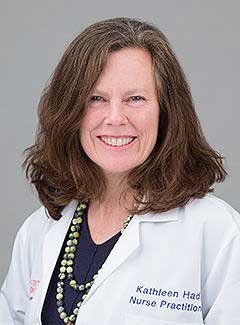 The medical advancements in oncology and where we've come, and watching it cure many cancers that I thought would never be curable.
When I did this in 1985, it was during the HIV pandemic, which was horrible to witness. The patients were all on the oncology floor. At NIH, we were the only place that had all the new drugs. People came from all over the world to get these drugs that were not FDA-approved. And to see the development of oncology, chemotherapy agents, biologics, and now immunotherapy that cures metastatic disease is just mind-boggling.
You know, we've become so precise in terms of treating tumors. You take the tumor and test it and figure out the lock and key, which drugs will work for it. It's pretty amazing. So the basic science, the molecular science, and then matching that tumor with drugs — it's been pretty mind-boggling to experience.
2. What's your favorite part of your job?
The people. Working with patients and developing collaborative relationships with my peers.
3. What's your biggest fear when you're a patient?
I want someone that's very knowledgeable and understands my particular disease or case and has researched it, has read the literature, and is very well-informed.
4. What do you do for stress relief?
I found yoga because of caring for patients with cancer. Dealing with the stress of death and dying and the other repercussions of the illness led me to yoga and meditation. And I'm also a big hiker and former runner.
Facing Cancer?
Find expert, compassionate cancer care at UVA Health.
5. Dogs or cats?
Dogs.
6. What's the last movie you saw? Thumbs up or down?
I never watch movies anymore. I think it was Bridgerton, the movie. Probably thumbs down.
7. What's the best advice you've ever heard?
"True leaders open the door for others." I always think about that when I work in teams.