At age 45, Scott Heysell, MD, learned he had colon cancer. The news came last April after a routine colonoscopy. Heysell had no colon cancer symptoms. He had no family members with colon cancer.
Colon cancer wasn't something Heysell expected to face — and especially not as a dad of two young children and at the peak of his career as an infectious disease doctor tackling health issues at home and in Africa.
During March, which is Colorectal Cancer Awareness month, Heysell took over our UVA Health Instagram for a day. He was honored to do this for 3 reasons, to:
Tell you more about his story
Raise awareness of an all-too-common cancer that is preventable with screening
Express gratitude for the family, friends, colleagues, and medical teams that contributed to his current health
Routine Screening Uncovers Colon Cancer
Heysell knew that colorectal cancer screening is now recommended for everyone starting at age 45. There's a good reason: More colon cancer is occurring in younger people in the U.S. We don't know exactly why, but UVA Health researchers are looking for answers.
Heysell shares: "When a knee injury brought me to my primary care doctor's office, we made a point to catch up on all my regular preventive care, including colon cancer screening."
"I scheduled my colonoscopy on a Friday afternoon. The procedure itself was really smooth. Dr. Dennis Kumral and the endoscopy team are true professionals."
"That day, I had just said goodbye to friends and colleagues visiting from Tanzania and Uganda. But as I awoke from the procedure, my attention quickly shifted from our work in infectious diseases in east Africa to a new disease of my own and a dreaded word, cancer."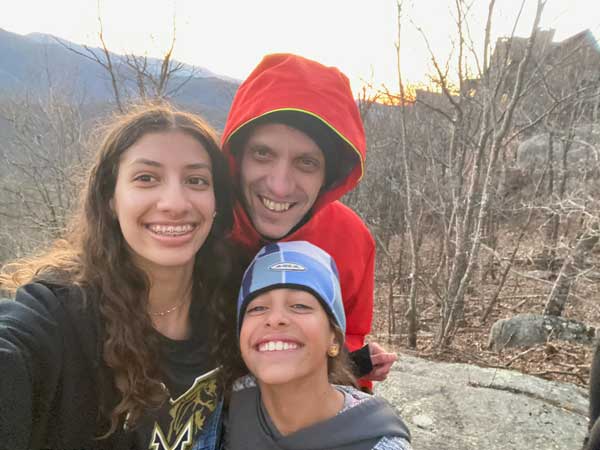 Sharing the News With His Children
As Heysell prepared for surgery, he and his wife had to break the news to their two kids. Heysell's wife, Tania Thomas, MD, also works at UVA Health. She too cares for people with infectious diseases.
Heysell shares, "My daughter, Dahlia, was 13 and my son, Asher, was 9 when we had to break the news."
"No one wants to share the news of cancer with their loved ones — loaded with connotations of death, fight, and of course, hair loss. Dahlia was introspective and affectionate, while Asher was fearful and inquisitive (no, Asher, I would not need an ostomy bag)."
Facing Exhaustion & Numbness
Sook Hoang, MD, performed Heysell's colon cancer surgery. She removed part of his right colon, small intestine, and 36 lymph nodes. "Yet, I was out of the hospital after two nights, and moving slow, but moving. Thanks, Dr. Hoang," Heysell shares.
When Colon Cancer Strikes
Learn why you need UVA Health's expertise.
One lymph node had cancer. This meant Heysell's colon cancer was at a later stage. He needed chemotherapy. He shares, "While I knew chemotherapy was possible, I had really wanted to avoid that part. My friend and neighbor Dr. Tri Le took on a new role in our life: my oncologist. With nurse practitioner Jenna Campo and nurse Michelle Colley, I was in good hands for what would be an exhausting adjustment."
Chemotherapy is life-saving when facing cancer. But it brings difficult side effects. Heysell faced exhaustion and eating became a struggle. He developed numbness in his feet.
"The fatigue was profound," Heysell shares. "I had to stop and rest with each flight of stairs, or take a break when walking from my office to clinic ... Cold objects could taste burning hot, and it was months before I could reach for something in the fridge."
1 UVA Health Department, 2 Doctors With Colon Cancer
On Instagram, find out what it was like for Heysell to learn that a friend and fellow infectious diseases colleague, Amy Mathers, MD, also had colon cancer.
"She credits the colonoscopy with saving her life," Heysell shares. "So take it from us (doctors get sick, too), and create the moments that you need for your own wellness, so that you can keep going strong for your own family and community."