Lawrence Wayne Gimple, MD, is an interventional cardiologist who specializes in caring for heart attack patients at UVA Health. A professor of cardiovascular medicine with UVA's School of Medicine, Gimple is the director of clinical cardiology and the quality director for UVA Health's Heart and Vascular Center. He's also worked on several research projects focused on heart disease.
Meet a Charlottesville-Based Heart Attack Doctor
We asked Gimple our 7 quick questions.
1. What has most inspired and shaped your approach to patient care?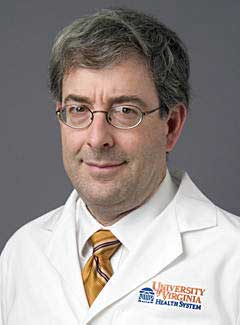 Often, healthcare problems in yourself or your family give you a new perspective on what it's like to be a patient. So when doctors and their families are patients, you can really learn a lot about what the healthcare experience is like. You're scared, you're nervous, and you're meeting your healthcare team at the worst possible moment.
You want a healthcare team that can respond to that, that you can trust, and that has the skill and knowledge that you need. Those are the aspects that inspire me to try to be as best as I can be.
2. What's your favorite part of your job?
I love talking to families after we've had successful results, which we do in the vast majority of cases. I love to get to them quickly. It's the first thing I do when I leave a procedure or a room or a consultation. Families are on edge. You want to be able to give them news and information. I like thinking about how to do that in the most compassionate, truthful, and straightforward way. And I like teaching the residents and the fellows to do the same.
3. What's your biggest fear when you're a patient?
Well, I think you're afraid you're going to get bad news, or that your life is going to change, or that your family, who depend on you, will have a problem. And that's what I always have in my mind when I'm talking to patients. I try to be as aware as possible of what their family situation is, what their work situation is, and how this will affect their lives and their family's lives.
Are You At Risk For a Heart Attack?
A heart attack can stop your life in its tracks. Our experts can help you prevent a heart attack or make a strong recovery if you've had one.
4. What do you do for stress relief?
I like to exercise. I'll take long walks in nature when I'm not on call. I've also done some mindfulness training because it helps you to be aware of your thoughts and anxieties and you can focus on them in the most positive way. But I think being active, moving your body, and getting exercise is a great way to reduce stress.
5. Dogs or cats?
I'm a dog person.
6. What's the last movie you saw? Thumbs up or down?
My favorite movie for my family is Back to the Future. It causes endless conversations around time and space, and what our lives are like in time and space.
7. What's the best advice you've ever heard?
One of my mentors told me, "You always want to, each day, try to be the best version of yourself." Obviously, I'm not an NBA basketball star and I never will be; that's not a version of myself that's possible. But you do want to be the best version of yourself every day. It makes you reflect on who you are, what you want to be, and how you'll get there.