Carl Michael Valentine, MD, is a heart disease (cardiovascular) specialist with UVA Health. A graduate of UVA School of Medicine, Valentine has also served as president of the American College of Cardiology.
We asked Carl "Mike" Valentine our 7 quick questions.
1. What has most inspired and shaped your approach to patient care?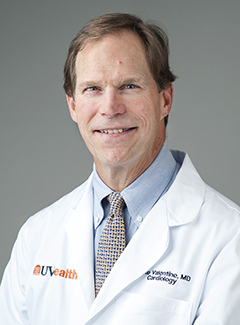 I have been incredibly fortunate as I was learning medicine to have wonderful mentors. One of my first mentors here was Dr. Lewis Barnett, who was the head of family medicine. He was a compassionate, kind, loving individual who taught me patient care at the bedside and how to really listen to patients.
I also had incredible mentors in cardiology like Drs. Jim Dove, Rick Gazel, and Pam Douglas at Duke, and many others who guided me and walked with me along the way. They've helped me learn what it was like to go through the tough times and become a better leader and a better doctor, all the way around.
And last, of course, would be my dad. He was a very kind and compassionate physician. He was quiet, a "quiet giant" as we said, and he taught me many of my early lessons about medicine, like what it meant to take care of the total patient and how to be there for the patient when they need you the most.
2. What's your favorite part of your job?
Taking care of patients on a daily basis. Being able to hear their stories, finding out where they come from and what they're doing, and what worries them the most. Being able to give them comfort and, hopefully, kindness and wise advice so that they can better take care of themselves.
3. What's your biggest fear when you're a patient?
That I won't get to ask the questions that make me worry the most. So often I ask patients, "If you had three questions that you wanted answered before you left this room, what would they be?" Because I want to make sure that's what you know when you walk out the door.
4. What do you do for stress relief?
I exercise every day, at least 5 times a week. I play golf, fly fish, hike — I do anything I can to get outside.
5. Dogs or Cats?
Dogs. I'm a real dog person. I've had dogs my whole life. Unfortunately, we had to bury our dog, Sam, at age 16 a couple of years ago, and it was a huge loss for us.
Worried About Your Heart?
The cardiovascular specialists at UVA Health can answer questions and check out your heart.
6. What's the last movie you saw? Thumbs up or down?
Wow. I haven't seen any movies recently. But the one thing that I have wanted to watch is the latest season of Succession.
7. What's the best advice that you've ever heard?
To live each day so that you make a difference in someone else's life — that you are kind, compassionate, and listening, so that you can be the best friend that anybody ever had.