Cuddles, first words, storytimes, and first days of school. Dana Henry cherishes the small moments with her daughters, Callie, 6, and Emery, 4. She takes nothing for granted. Dana survived breast cancer during pregnancy with her younger daughter.
"I learned to release control and to not sweat the small stuff," says the assistant dietetic internship director and prenatal dietitian at UVA Health. "While I tried to maintain a positive attitude and do what I could, I also realized I needed to accept the help of others. My focus and energy shifted to fighting for not only my life, but my daughter's as well."
Breast Cancer — or Pregnancy Hormone Changes?
Dana and her husband Logan, a cardiac device nurse at UVA Health, found out in spring 2019 they were expecting a second child. A few weeks later, Dana felt a lump in her left breast. At first, she wasn't concerned.
"The first thing that came to mind was that it was a clogged milk duct," she recalls. "I'd started weaning Callie from nursing — she was almost 2 years old."
Plugged milk ducts are common during weaning as the baby's feeding schedule changes. Women who are nursing, pregnant — or recently have given birth — experience hormone changes that can affect the breasts. This can make breast cancer difficult to find.
Testing a Suspicious Lump
A month passed, and the mass in Dana's breast didn't go away. So her OB/GYN specialist Katherine Latimer, MD, ordered an ultrasound. The results concerned the radiologist. That same day, she also ended up having a mammogram and a biopsy.
"This all happened on Friday afternoon, so I had an anxious weekend of not knowing," says Dana, who was 14 weeks pregnant.
Facing Breast Cancer During Pregnancy
The following Monday, she received the news. Dana had HER2-positive, hormone negative cancer in her left breast. HER2 is a gene that helps breast cancer cells grow quickly, according to the American Cancer Society. The cancer had spread to her lymph nodes near the left breast.
More imaging tests usually are given after a cancer diagnosis. That allows doctors to see if the cancer has spread to other parts of the body. But some of these tests aren't safe for unborn babies. Dana would have to wait until after Emery's birth for more testing.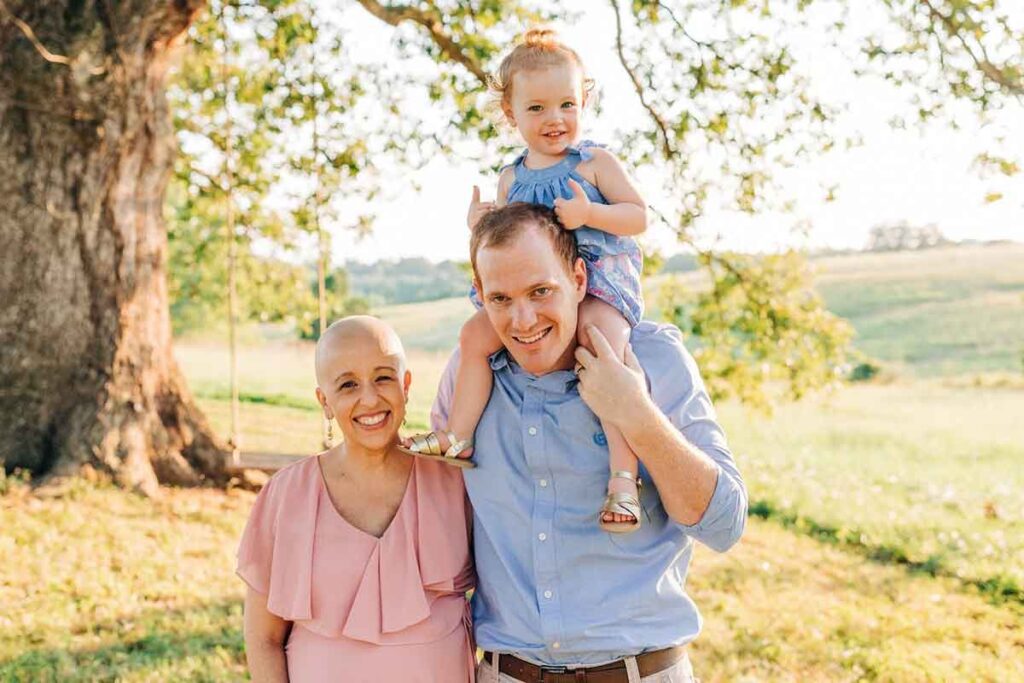 "I spent my entire pregnancy not knowing if the cancer had spread anywhere else beyond my lymph nodes," she remembers. "That added a big fear and anxiety factor to the whole pregnancy. But there were so many specialists on my care team. I was in good hands."
After diagnosis, Dana's maternal-fetal medicine specialist Christian Chisholm, MD, led her high-risk care team along with breast oncologist Patrick M. Dillon, MD, and breast surgeon Shayna Showalter, MD.
Chemo & Surgery While Pregnant
A few days after Mother's Day 2019, Dana began chemotherapy treatments. HER2-positive breast cancer responds well to targeted therapies. But these medications aren't usually safe for unborn babies.
"We started off combining two different types of chemotherapy," says Dana, who has no family history of breast cancer and tested negative for all the major breast cancer genetic mutations, such as BRCA.
After four chemo cycles, imaging revealed her tumor had grown. So Showalter performed a left mastectomy and removed the lymph nodes from the left armpit. Dana was 25 weeks pregnant.
Following surgery, her treatments included chemotherapy and a reduced dose of targeted therapy. Her medical team also increased growth scans for Emery, who developed as expected for her gestational age. Cardiologist James Bergin, MD, medical director of UVA Health's Heart Failure/Cardiac Transplantation Program, also monitored Dana's heart function — it had dropped from more than 65% to 40%, according to an echocardiogram. Concerned, Bergin coordinated with her medical team to schedule Emery's delivery the next week.
"I appreciated the individualized care that I received," Dana says. "When things didn't go as planned, the medical team had to pivot along the way. They always developed the best care plan for me, as well as for Emery."
Pregnant + Cancer?
It's time to call in the experts.
Welcoming Emery; Attacking Breast Cancer
Emery was born at 33 weeks via cesarean section and spent a month in the NICU. Within a week of giving birth, Dana underwent imaging tests such as a bone scan, and CT scans of the chest and pelvis. Fortunately, her cancer had not spread beyond the lymph nodes.
Now that Emery was out of the womb, Dana was able to try any appropriate cancer therapy. She had:
30 rounds of radiation
Targeted drug (different from the one she had during pregnancy)
8 more cycles of chemotherapy
6.5 cycles of oral chemotherapy
Additional year of another targeted drug
"I told my team, 'Just throw me back into treatments!'" Dana says. "I had two young girls at home, so I wanted to do everything possible to fight the cancer."
Dana and Logan are both grateful for the care she and Emery received at UVA Health. She sees her oncology team every six months. For now, she's cancer-free.
"One of the great things about UVA Health is that all the people involved in my care were in one place," Dana says. "They already were familiar with working together on different patient cases. I wasn't the first patient they had treated for breast cancer during pregnancy. So that coordination of care really became important, especially later in my pregnancy. We were impressed with how they took care of us."