My knees hurt.
This is nothing new. After dancing fairly rigorously for 14 years, they started hurting when I was in high school, and I had to quit. Now in my mid-thirties – working at a desk job, wearing heels, running and doing yoga several times a week – it doesn't surprise me that the old knees give me trouble.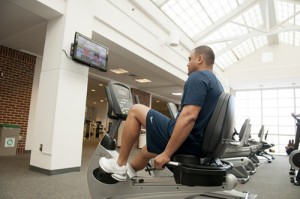 Like many people my age with joint pain, I mostly ignore it. I can just suffer – and shuffle – through it.
"It's a general principle with the knee," says David Diduch, MD, orthopedic surgeon at UVA. "When damaged, people try to live with it, and that's going to create additional problems. People say, 'It's not that bad, it just happens sometimes, pain and swelling, it's not crippling.' Meanwhile, they are chewing up joint cartilage."
Well, okay. But surely knee pain, orthopedic surgery, joint replacement and all that stuff is for older people or professional athletes, right?
Not always.
Why Worry About Knee Pain Now?
Meet Lo Davis. He's young, by my standards, at 42; and while he works in fundraising at the Virginia Athletics Foundation, he's not a professional athlete.
Still, a few months ago, he had knee surgery.
As Diduch, the surgeon who performed the surgery, explains, "It doesn't always take an aggressive athletic background; it's just sand in the gears. That's why it's easy to think the pain is not important, just a little wear and tear."
But Davis knows too well that kind of pain in your knees is important.
"It's not that I had any major injury, just wear and tear over the years," he explains. He was playing basketball and injured his right knee; then his left knee started bothering him 3 months later. "I met with Dr. Diduch, who showed me exactly what part of the knee was damaged. My left knee was missing cartilage, like the size of a quarter."
Most injuries can be dealt with through rehab, if caught early enough. In Davis' case, the question wasn't whether surgery could be prevented, but how long it could be put off.
Knee Surgery: The Choice
Davis had to make a choice. So far, he felt he'd been able to age pretty well and stay healthy and active; major surgery was not part of that picture.
But neither was living with pain. "When you do feel those issues in your legs, knees, body or back, a lot of us just fight through it. But it makes your overall well-being feel terrible."
A busy father of two young, active children, with a job he loves that requires frequent travel, he had a lot of reasons to want to stay physically able. "It was either do it now or be miserable the rest of your life."
He also didn't want to risk having surgery later in life, when major operations can have seriously dangerous impacts.
"I was working out in the gym, strengthening myself, and I almost thought I didn't need the surgery," he admits. "But then I figured it would come back and that rehab after surgery would be easier at 42 than at 52. I decided I just wanted to get it over with now; I was mentally ready to tackle it."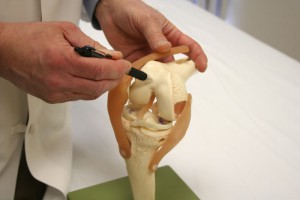 Microfracture Surgery: Filling the Pothole
As it turned out, Diduch was able to offer a faster, less invasive procedure (called arthroplasty) that restores the knee's joint surface: microfracture surgery.
Davis describes it as when surgeons "go in and actually clean everything up, poke little holes in the bone so that it actually regenerates that cartilage by forcing it to bleed."
In his office, Diduch shows me a model of the knee bone, pointing to the area he had treated. Diduch's analogy: "It's like filling a pothole, it just does it itself."
Though Davis gives Diduch a lot of credit for the smoothness and success of the procedure. "He was fantastic. He is actually one of the UVA team doctors, so I've seen him deal with sports injuries. The care that I got from him was unbelievable."
 After Knee Surgery: A Hard Recovery
For Davis, staying off his feet for six weeks after the operation was "one of the most challenging times I've ever had to experience," he says. "Part of me was just, 'Suck it up, you can get through it.' The reality was it was hard, very hard. Not even because of the pain in the knee, but the crutches; something as simple as taking a shower was a challenge."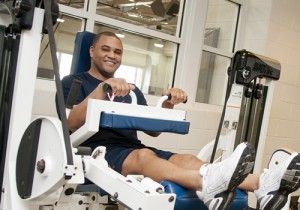 After the first three or four days of recovery, Davis tried to get back to something of a normal routine. A dedicated dad, he was used to getting his kids dressed and ready for school in the morning, and putting them to bed at night.
"I couldn't do the stairs, so I slept in the guest bedroom. My wife would bring my son down and I would dress him downstairs. Once a week I'd drag myself up the stairs for bedtime; there were a couple scary moments when I almost fell down the steps."
And after the crutches were gone, a final challenge: "I had to learn how to walk again."
Steps to Knee Surgery Prevention
That's when I asked Davis if he knew of any ways to avoid going through the kind of ordeal he'd been through. His recovery experience seemed like an ordeal – and that was from the minimally invasive procedure.
Davis's obliges with some helpful advice. "Most people think walking and running is a way to lose weight fast, but low-impact elliptical training, riding a bike, are equally as successful in losing weight and staying in shape. And in the long run you'll preserve your body as you get older."
Certainly, avoiding exercise is not the route to go. At the UVA Sports Medicine Clinic, Jennifer Hart, PA-C, tells me that the biggest group of people they see is not athletes but "the general sedentary person, usually due to lack of good quadriceps muscle strength."
This surprises me; but as Diduch explains, the Sports Medicine Clinic sees people from all backgrounds. "It's not how you got hurt, but what you hurt – that is, your knees or shoulders."
And when it comes to that knee pain, Diduch very specifically describes what to watch for: "Swelling, as a rule of thumb, means joint damage. Also, look for soreness in the fronts of your knees after sitting too long, or if the first two steps are tough when going downstairs. This is caused by a little wear, and physical therapy can help." He's currently conducting a clinical trial that's looking at injecting lubricant to cushion the knee joint to improve knee pain and is studying other cartilage replacement techniques.
To anyone with any kind of knee pain at all, Davis advises: "I would recommend you go see about it now."
And me? I'm off to make an appointment.
Do you have knee pain?
If you would like to have your knee or shoulder evaluated, visit the Sports Medicine Clinic.
Or find out more about minimally invasive procedures and joint replacement.