Healthcare facilities produce a lot of waste.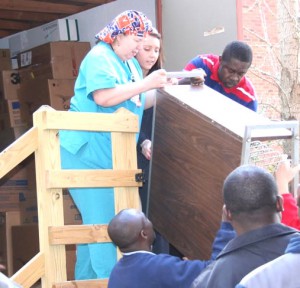 There's medical waste like needles and used surgical gloves that needs to be disposed according to strict regulations.
But there's also other kinds of waste. Unused or outdated supplies. So-called "disposable" items from prepackaged kits, like scissors, gauze and absorbent pads. At many hospitals, these items would end up in a landfill. But because of a program started at UVA in 1992, we send many of these items to good causes in the Charlottesville area and far beyond.
The MERCI Program
Trena Berg, RN, clinical manager in the operating room, has led UVA's MERCI (Medical Equipment Recovery of Clean Inventory) Program since 2007, when she took over from Helen French, a UVA nurse who founded MERCI. Each Thursday, Berg and volunteers throughout the hospital sort through donated supplies and package them for delivery.
Because of the MERCI Program, many useful items go to organizations like the Charlottesville Albemarle SPCA, the Virginia Wildlife Center and the Charlottesville Pregnancy Center. Supplies are also used by faculty and staff who do research and those who go on medical mission trips around the world.
Helping Charlottesville's Sister City in Ghana
In 2011, a 40-foot container of medical supplies was shipped by boat to Charlottesville's sister city, Winneba, in the West African country of Ghana, and a second container was collected for Ghana this past April.
Charlottesville City Councilor Dave Norris and others from the city visited Winneba, Ghana, last year. Norris was Charlottesville's mayor at the time, and he visited some of the clinics where the supplies were headed.
"These clinics are certainly good candidates for these supplies," he says. "They're under-resourced, and they're serving a lot of people with minimal resources and to be able to have these supplies is really helpful."
Medical supplies from UVA went to a number of clinics all over Ghana, not just in Winneba, Norris says.
"The healthcare system in Ghana is certainly more advanced than it is in some African countries, but it's still rudimentary compared to ours."
Charlottesville's sister city partnership with Ghana includes much more than medical supplies. Charlottesville leaders and librarians are also lending support to Winneba as it builds its first public library. And there are plans in the works to develop an artist-in-residence program, where artists from Ghana would teach West African art, design and music in Charlottesville city schools. "They have such a rich cultural and artistic tradition there that we could benefit from," says Norris.
The medical supplies donated to Ghana are much needed.
"The thing I really like about MERCI is they don't just dump used, out-of-date equipment," Norris says. "The supplies they're donating are useful supplies."
Recyling Medical Supplies at UVA
You might wonder why all these medical supplies aren't reused at UVA. Don't we have people who need those supplies in our own clinics and hospital? Actually, much of what MERCI volunteers collect is reused by the Health System, according to Berg.
"Seventy percent of what we get goes back into the system. The hospital is the first priority," she says. "But the rest we cannot use."
All medical supplies used at UVA have to be classified as "sterile," not just "clean," Berg says. Once products are opened, they are no longer considered sterile. Some products are re-sterilized, but in many cases, U.S. manufacturers won't stand behind re-sterilized products or the FDA won't allow those products to be reused, she says.
Berg even saves unused but opened gloves and gowns. Once the gowns are opened, they can't be used for patient care. But they are used to train medical school students who are learning how to properly put on the gowns and gloves.
There are also cases where labs are disbanded because research projects are completed. Some items may be given to another lab, but we might not have a use for other items, says Berg.
Berg even gets donations from other hospitals and from family members or patients. She often picks up these donations herself.
The MERCI Program recently received a stairlift. Berg kept it in her basement until she could find someone who needed it. She talked to staff at the UVA Kluge Children's Rehabilitation Center, and they found a family with a brain-damaged little girl who needed the stairlift.
"It's a lot of networking" to find the right new owners for equipment and supplies, Berg says.
"I don't believe in us wasting money. As much equipment as I can send back into the system, I do."