We're trying new heart-healthy recipes every month and will share the results with you. All recipes are from Club Red, UVA's heart health club for women.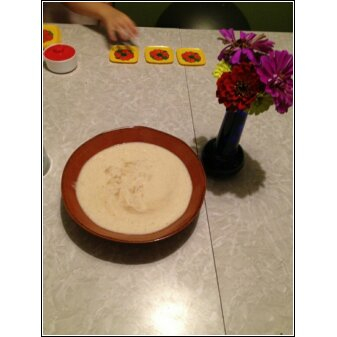 Banana Mousse
With four kids in the house, there's rules about dessert. It:
Must be quick and easy to make
Can't have so much sugar that bedtime turns into a circus
And yes, you've guessed it: We usually don't have dessert at all.
Last Friday night, however, we took the crew to a friend's house for dinner (two more kids added to the mix) and we had to bring something. This healthy dessert recipe looked like it met our after-dinner criteria (quick and easy; low on sugar) with a plus: The small list of ingredients and quick prep time meant I could easily bring what I needed and whip the dish up in my friend's kitchen without too much hassle.
The result? The banana mousse delivered. It was tasty. It was easy. And it didn't keep the kids up past their bedtime.
I doubled the recipe, but I could have quadrupled it. Both the children and adults alike found this creamy, pudding-like treat delicious. It took about two minutes to make, and while it has some sugar, it's real food, not pudding-in-a-packet. That is, you can feel good about serving it – and eating it yourself.
Want to make it even richer? Use whole milk and whole-milk yogurt, like I did. Top with real whipped cream (which I didn't).
Stars: 5 out of 5