If you're in the Health System's main cafeteria on October 24, you'll get a chance to celebrate Food Day with some great local offerings.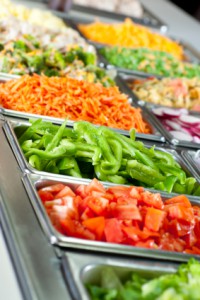 UVA's dietitians are participating in the nationwide event, created by the Center for Science in the Public Interest (CSPI) to highlight local, sustainable food, says Kendra Glassman, a clinical dietitian at UVA.
Glassman says UVA's dietitians hope the event will remind people of the need to eat fresh, healthy foods to help prevent serious problems like heart attack, stroke, diabetes and cancer.
Health System events on October 24 will include:
A potato bar featuring local food (and our usual local salad bar) in the main hospital cafeteria from 11 a.m.-1 p.m.
An apple tasting by the Local Food Hub in the cafeteria from 11 a.m.-1 p.m.
A meal featuring local foods for our young pediatric patients who are staying in the hospital.
"These events are a way to support our local farmers and a great way to get your fresh fruits and vegetables and non-processed, fresh foods," says Glassman.
Food Drive
UVA's nutritionists will also hold a food drive for the Blue Ridge Area Food Bank October 22-26. They'll collect non-perishable items at a station near the cafeteria. Staff and visitors will also have the opportunity to purchase and donate oatmeal, tuna and peanut butter in the cafeteria, a convenient option for many who might not want to carry in items.
CSPI also uses Food Day to highlight issues like health and nutrition, hunger and agricultural policies.
Did you know? UVA recently won a national sustainability award, in part because of our efforts to support local food in our cafeterias.
Vitamins and snack ideas: You can get your vitamins from your food (plus some snack ideas).
Like our nutritionists on Facebook.