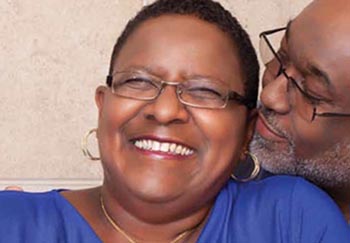 Upon her diagnosis at the age of 42 with a common form of breast cancer called intraductal carcinoma, Janice Brock made a choice. She chose to be a survivor. And every step of the way, someone was there to reaffirm her already strong belief that she would beat this disease.
Her care team – from the mammography technician who conducted her mammogram to the surgeon who performed a lumpectomy procedure – provided clear, honest answers to difficult questions, which gave Brock an invaluable foundation of knowledge and allowed her to move forward with confidence through each stage of treatment.
Church members, colleagues and friends offered encouragement through prayer, small gestures and kind words. And her family never left her side. "Telling them about my diagnosis was especially difficult because we had just lost my mom four months prior."
"It was so comforting knowing that someone was going to be there for me."
Her husband of 22 years, Lewis, never 
left her side. He accompanied her to the pre-surgery appointments and sat with her through many hours of chemotherapy. "Everyone in the Infusion Center and clinics was so accommodating and allowed my family to be with me," she says. "It was so comforting knowing that someone was going to be there for me."
With determination, comprehensive care and a strong support system to lean on, Janice beat cancer. And today, she helps others face the disease with the same resolve through her involvement with Sisters Conquering Cancer, a support group for minority women.
Learn about the UVA Breast Care Program.