The story follows up on a previous blog post, Tennis Elbow: To Operate or Not, That is the Question.
Lisa Green has graduated.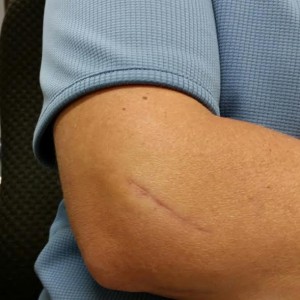 Today was her last checkup with Angelo Dacus, MD, the orthopedic surgeon who operated on her tennis elbow back in May – successfully, it turns out.
"It's July 7, and I'm back," she says, excited. "Back on my bike, back on the kayak in the water, now I can mow my grass and do the things I need to do to run the household. I have no more appointments."
Choosing Elbow Surgery
Back when Green first saw Dacus, the question of whether or not to have surgery was a tricky one. It was possible that enough rest and physical therapy could allow her elbow to heal by itself; however, it was also possible that after several months, if her elbow did not heal, she would still need surgery.
Green's goal was to get back to her active lifestyle as soon as possible. So, she chose to have surgery, opting for what she hoped would be a quick recovery time and less time overall out of commission.
It turns out Green made the right decision. "When he was in there doing the surgery, he said my tendon was a mess, and it was a good thing we were having this done."
Two months later, Green is elated. "How do we give this guy enough praises?" she says, about Dacus. "He's phenomenal. He does not rush in; you're not just a case number. He listens, actually, literally listens to what you have to say. And that is what is hard to find in doctors today. I did not feel like I was on an assembly line."
Was she glad she had elbow surgery?
Green answers without hesitation. "Absolutely. I have no pain. I'm aching from getting back to strength. But the constant, everyday ache, 24 hours a day, is gone."
What's next for Green? "I tried to get Dacus to do my hip, but that's not his specialty. So I asked him if he had a clone who did hips. He gave me a recommendation. I want to run again."
Is Elbow Surgery for You?
You, yourself, can have a consultation with Dacus or any of the team at the UVA Hand Center. Call for an appointment today.