Ever wonder what your doctor or health provider does outside the exam room? Our 7 Quick Questions series gives you a personal glimpse into the people of UVA.
Kenneth Liu, MD, performs neuro-interventional surgery at the UVA Neurosciences Center. He is the only neurosurgeon in Virginia versed in both endovascular and skull base techniques.
1. What did you want to be when you were little?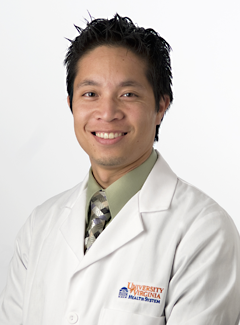 My mom tells this story where I was probably 8 and saw some PBS show on some neurosurgeon and I said, "That looks cool; I'll do that." And after that, anytime an adult asked me, I said brain surgeon. The response was so positive, I thought that was the right answer. When it came time to grow up, that's the only thing I really knew.
And it's an amazing field, with so much going on. I feel like the neurosurgery field itself will splinter into more fields. Neuro-interventional surgery, my subspecialty, is quickly becoming its own thing. I love what I do. It's a lot of fun; there's a lot of technology and gadgets and new stuff being constantly invented and discovered.
3. What's your favorite place to travel?
Hawaii. I've been to Japan, Taiwan, Indonesia, Latin America, and I'd like to go to New Zealand and Antarctica.
4. What's one thing you always have in your fridge?
Dr. Pepper, Devil's Backbone and Tito's Vodka.
5. What's the most unhealthy thing you eat?
Ramen — the real ramen from Korea and Japan. I think my blood pressure goes up 50 points when I have one, but it's delicious.
6. What's the most exciting thing/research happening in your field right now?
I'm in one of those fields that's really exploding. We don't know about the brain and what we know is really constantly changing. Ten years ago I would say that the majority of aneurysm surgeries were done open and now it's the complete opposite, where a lot of what we do is minimally invasive or less invasive.
Also, stroke is very quickly becoming one of the leading causes of disability and death, so there's a lot of effort, money and research being put into better treatment and prevention of stroke. It's all very exciting and has the potential to positively affect a lot of patients.
7. Who's your inspiration/hero?
In no particular order:
Douglas Adams, because he is a brilliant writer and activist, and he has a hilarious, hysterical vision for the future that jives well with mine.
James Hetfield. I admire him as a musician, and I identify with him because as a kid, I was very shy. He's a quiet guy but when you put a guitar in his hand, he transforms. I had a band in medical school and have a very similar response to having an instrument in my hand. For somebody like me who's not great with words, but when I have a guitar in my hand, I feel like I can finally express myself.
Steve Jobs. I think he had a real knack for finding beauty in simplicity. And I think in this day and age, especially with neurosurgery, things can get complex. But I think there's a certain beauty or satisfaction with finding the simplest solution to the problem. I think as a businessman, he was very focused on the consumer experience. As a surgeon, our patients and the referring physicians we work with are our customers; I think it is important to focus on improving their experience with the UVA Health System. Jobs had a profound impact on the world in a way no one really expected. He's really changed so many things about how technology can impact our lives.
Lori Guidone, my wife. Need I say more?