It was an average day in the hospital cafeteria for Pat Conant and her coworker, Marie Spilman. That was, of course, until they noticed a man stand up and appear to be regurgitating. He did not grasp at his throat but instead, experienced one particular characteristic of a choking victim.
While choking, the body produces extra saliva in an attempt to lubricate the lodged item — a telltale sign Conant had seen before. A nurse practitioner with over 20 years of experience, her instincts sent her into action. She feared she wasn't strong enough, but in a matter of seconds and three pumps under the man's breastbone, the emergency was over.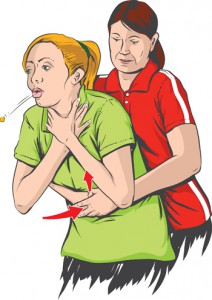 Before coming to UVA's Advanced Cardiac Valve Center, Conant worked in cardiology, interventional radiology and the ER. She also gained experience performing the Heimlich maneuver in two other emergency situations. "I've done the Heimlich three times. Many people have never done it before, ever, even healthcare professionals," she says.
Bystander Intervention — Act On Your Instinct
Conant, Spilman and their coworker, Kanwar Singh, MD, were the first responders in the cafeteria that day. Conant recalls knocking over a chair on her way to the man's side, making noise and alerting others to the scene. But reactions from the onlookers went unnoticed as she blocked out all background noise and focused on the task at hand.
"I knew what was happening, so I just ran over and did the Heimlich," says Conant nonchalantly. Although she understands the impact of her actions, she knows it was just what she was meant to do. "I think anyone would have done it, I really do. I'm not any hero," she says.
The three coworkers agree the situation would have been more difficult if the man had been sitting or fallen to the floor. Conant was thankful for the support of Spilman and Singh by her side. They later found out that the 32-year-old man has a young baby with another on the way. "Somehow he found me and wrote me an email and said, 'Thanks for saving my life,'" she says.
After the incident, others approached Conant praising her actions. She received an award from her managers and staff recognizing her. Dr. Heimlich, the patented inventor of the maneuver, even personally mentioned her in a tweet!
Steps to Perform the Heimlich Maneuver
There are a few variations for performing the Heimlich maneuver. However, there really isn't an incorrect way. And for those worried about hurting the individual? Well, you should be covered under the Good Samaritan Law, which offers legal protection to those who give reasonable assistance to ill or incapacitated individuals.
Choking can happen to anyone, anywhere. Conant strongly urges everyone to become CPR certified and know how to perform the Heimlich. Meat is the most common type of choking hazard and usually occurs when an individual is eating quickly and taking large bites. The American Heart Association technique:
Stand behind the person. Wrap your arms around their waist. Tip the person forward slightly
Make a fist with one hand. Position it slightly above the person's navel, underneath the breastbone and avoiding any ribs.
Grasp the fist with the other hand. Press hard into the abdomen with a quick, upward thrust — as if trying to lift the person up.
Perform a total of five abdominal thrusts. If the blockage doesn't dislodge, repeat the cycle.
 Get Yourself CPR Certified
Check out what is available in your community. Local Red Cross and rescue squad affiliates offer various health and safety training programs. UVA offers the Heartsaver First-Aid overview class with the optional inclusion of a CPR certification. UVA's Heartsaver CPR AED Course teaches individuals:
How to perform adult, child and infant CPR
How to use an automatic external defibrillator (AED)
Hot to perform the Heimlich maneuver
So, take a class and be prepared! And don't be afraid to use your knowledge in case of emergency. You never know when it can come in handy — it just might be while taking a casual lunch break with a friend.