Well, 2015 is coming to a close and we are recapping the year by highlighting some of our favorite posts, one that we wrote ourselves and one written by someone else. Feel free to leave a comment and let us know what some of your favorites were, too!
Personal Favorite
Which post did I enjoy writing the most this year? Keep Safety in Mind When Buying Kids Toys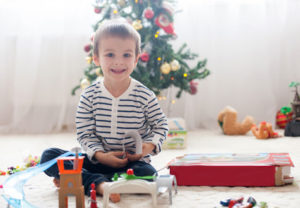 It's all about the fun and games until somebody gets hurt. Most people probably don't think about the safety risks and hazards that come along with certain toys when they're out shopping. Injuries involving toys can happen more often than you think, but with a little common sense and caution, most injuries and accidents can be prevented.
I enjoyed researching and learning more about toy safety hazards. I'm sure we all remember the excitement of getting new toys as a kid and want the same joy for the kids in our lives. In this post, we were able to share some helpful toy safety advice from Amanda Simas, a Child Life Specialist at UVA Children's Hospital, and share the "Top 10 Most Dangerous Toys" of 2015.
Highlight Favorite
There were so many good stories written by our team this year, making it difficult to pick just one. I decided to choose a series of posts as my overall favorite for 2015: The Maternity Monday series.
It may seem a bit unusual that one of my favorites is a series of posts about having a baby. The reason is that these posts ended up being especially relevant for my wife and me, because she was in the middle of pregnancy during that time.
She was pregnant with our first child, so we were reading some of the popular books about what to expect. It was neat to follow along on our blog to see some of the same advice and learn new tips from the doctors here at UVA.