Your 20s provide a time in your life to learn about your mental, physical and spiritual well-being. I caught up Julia Taylor, MD, adolescent medicine specialist at the Teen and Young Adult Health Center, to learn about the preventive care you can do in your 20s to set you up for success as you age.
"The goal is to minimize cardiovascular risk factors and to set up really good, healthy lifestyle habits that can prevent illness."
Preventive Health for Women
To prevent cervical cancer, get a pap smear at age 21, regardless of sexual activity. Follow-up care depends upon test results.
Additionally, the HPV virus is the leading cause of most cervical cancers – get the vaccine!
Preventive Health for Men
Testicular cancer predominately affects young men. Taylor urges men to have a sense of what their normal is, and watch for any changes like a mass or lump on the testicles or a feeling of fullness.
For Both Men and Women
Get regular health maintenance visits.
These visits screen you for hypertension and cardiovascular risks, including:
High blood pressure
Weight and body mass index (BMI)
Diabetes
A lipid panel screening is recommended, especially for those with known risk factors like:
Being overweight
History of high blood pressure
Family history of early heart disease
Regular visits also include reproductive exams, like genital exams and an additional breast exam for women. This helps you understand what is normal and what abnormalities to look for.
Health Hacks by Age
Get vaccinated.
One easy way to prevent illness in your 20s is to protect your body and immune system from viruses.
Put it on your radar:
Get the flu shot on an annual basis
Begin or continue with the HPV vaccine series
Get the meningitis vaccine for those living in communal environments like college dorms and didn't get the shot at age 16
Opt for the varicella vaccine if you haven't had chickenpox
Get yourself tested for STDs.
"The rates of STDs are highest in this population of late adolescence and early adulthood," says Taylor.
She advises getting tested for:
Chlamydia poses a larger threat to women because it may not present signs or symptoms. It can also cause issues with ectopic pregnancies and infertility if not treated appropriately.
How often should you get tested?
If you've never had an STD, you should get tested whenever you've had unprotected sex or sex with a new partner.
If you've previously had an STD, you should get tested every three months for gonorrhea and chlamydia, as you're more susceptible to future infections.
You should get an annual HIV screening, unless you fall into a higher risk population like men who have sex with men, in which case you should get tested more frequently.
Live A Healthy Lifestyle. 
"Those good habits you establish in your 20s can carry you a long way," says Taylor.
Exercise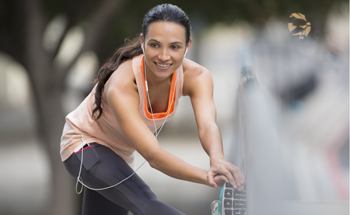 Keeping your cardiovascular risk factors down is important. A great way to do that is through exercise. Get your heart rate up for 30 minutes a day about five times a week. It can be anything from running, biking and even dancing – make it fun!
Nutrition
Nutrition and exercise go hand-in-hand. A balanced approach to nutrition is key. Nothing is off the table completely, but everything in moderation is important. And don't skip breakfast or forget the importance of hydration!
Mental health
During your general physical exams, your physicians will screen your mental health. They may ask questions about your mood and alcohol and tobacco/substance use. This is a great place to express any concerns or begin a conversation about treatment.
Mental health issues are increasingly common in the young adult population and may be different than those of older populations.
Common concerns may include:
Binge drinking/drinking to the point of blacking out
Tobacco or marijuana dependence stress/frustration
Anger/irritability
"If you're feeling this way, you can be reassured there's a lot of people feeling this way. It doesn't always require a diagnosis or medication, but it's always appropriate to seek help," reassures Taylor. 
Need a physical exam?
Schedule an appointment with our Teen and Young Adult Health Center.