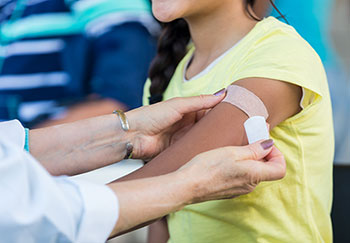 It's that time of year again. Football is a major topic of conversation at the office. The leaves have turned bright shades of red and orange. It's also time to get your flu shot, if you haven't already.
Sure, the flu vaccine isn't fun, like leaf-gazing and football games, but it helps keep you and those around you healthy during flu season. Susan Werner, MD, a pediatrician at UVA Pediatrics Culpeper and regional medical director of UVA's primary care clinics in central Virginia, provided us with some flu vaccine facts.
Why Get a Flu Vaccine?
"Flu is the leading preventable cause of infectious death in the U.S.", says Werner. About 12,000 – 79,000 people die in this country from the flu each year, according to the CDC. In 2018-2019, deaths from the flu were at the high-end of this range.
"Last year's (2018-2019) flu season had a long duration, with several different strains of the flu virus, and the vaccine didn't protect against all of them," said Werner. She also warned that this year could see similar long-lasting flu season, with the first reported cases in September. Still, the best way to protect yourself and family is to get a flu shot.
Most people experience no side effects from the vaccine and the risk of experiencing side effects is much smaller than the risk of getting the flu or suffering complications from the flu.
Do You Need a Flu Shot Every Year?
Yes, because the vaccine changes each flu season based on the strains of flu that are prevalent that year. The flu virus is constantly changing and the vaccine changes along with it. It is recommended that you get the flu shot in late September or October, though if you forget, you can still get the vaccine later in the flu season.
Full protection from the shot doesn't take effect until 5-10 days after you get the vaccine, so if you're traveling, you might want to keep that in mind.
Who Should Get a Flu Shot?
Everyone aged 6 months and older should get a flu vaccine. It is especially important for anyone who is at high risk for complications from the flu. According to the CDC, that includes:
Young children
Adults over 65
Pregnant women
Nursing home residents
Adults with chronic conditions, like heart or lung disease, asthma, cancer or diabetes
It's also very important to get vaccinated if you live or interact with any high-risk individuals on a regular basis.
If you get the flu, most healthy individuals recover within 5 to 7 days. Werner advises that you can also discuss with your doctor whether the severity of your symptoms warrants the use of an antiviral medication. Effectiveness of antivirals goes down when the medicine is used widely within our communities.
Who Should NOT Get a Flu Vaccine?
Those who shouldn't get a vaccine include:
People with a severe allergy to any ingredients in the vaccine
Those who've had a previous severe reaction to the vaccine
Children younger than 6 months of age
You also shouldn't get the shot if you have a fever. Wait until you feel better before you get it. Talk to your doctor if you're concerned about an allergy or if you've ever had Guillain-Barré Syndrome.
What About Vaccine Side Effects?
Side effects are rare, but usually begin soon after you get the shot and they last for one or two days.
Get the Flu Vaccine: It's Not Too Late

Call your doctor's office to make an appointment. Many of our clinics will have flu shot clinics separate from regular appointments. These clinics vary by location, so call your doctor's office to see what's available.

If you're not a UVA primary care patient, you can find out more about our primary care services. If you live in Central Virginia, chances are we have a location that's convenient for you.
Side effects include:
Soreness and swelling at the injection site
Hoarseness
Red, itchy eyes
Cough
Fatigue
Fever
Aches
Headache
Moderate and severe problems are very rare. You can find out more about these side effects at the CDC site.
Intranasal Flu Vaccine: Another Option
Anyone ages 2-49 can get the intranasal flu vaccine, which contains live, but weakened, flu virus. The intranasal vaccine is sprayed into your nostrils. This might be a good option for children (or adults) who are scared of needles. Werner says it's a little bit more likely to cause flu-like symptoms because it's a live virus, which is why it's not recommended for the very young or other high-risk patients.
­­­­­­Where to Get the Flu Vaccine
If you're a patient at one of UVA's primary care practices, you can call to make an appointment for the flu shot. You can also get the shot at local pharmacies or your local health department.
"The important thing is getting the flu shot. Our goal is to get as many people vaccinated against the flu as possible," says Werner.
We originally published this blog post in 2012 and updated it in November 2019.