February is National Heart Month, and throughout the month we're profiling some UVA doctors who embrace activities that keep them healthy and young at heart.
A. Rashard Dacus, MD, is an orthopedic surgeon who also serves as an assistant team physician for James Madison University Athletics. He has been a member of the JMU athletics physician team since 2008, where he helps athletes who suffer hand, wrist or elbow injuries.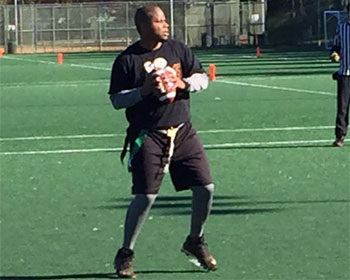 Playing Sports
Outside of work, Dacus also enjoys participating in a variety of sports himself. He has been playing sports pretty much his entire life.
"It helps me with mental and physical health. Sports are a great way to get a workout in while having fun," he says.
Whether it's participating in local recreation flag football and softball leagues, running, snowboarding, going to the gym or playing golf, Dacus is always looking to stay active. With a busy schedule, it can be a challenge, but as Dacus says, "You just have to make time. Most of my games are in the evening or on the weekend."
Sports are an important part of a healthy lifestyle for Dacus. "It is a way to give purpose to the activity. It also is a stress reliever," he says.
We agree! Participating in sports is a great way to get fit, have fun and keep your heart going strong.
Get Involved
If you're interested in joining a sports league, check with your local city or county recreation department or the Charlottesville Sports & Social Club. They usually have adult sport signups available throughout the year.
Suffering from a sports injury?
See our list of orthopedic locations and make an appointment to get it checked out.