Karen B. Rendleman, executive director of the UVA Health Foundation, contributed this post.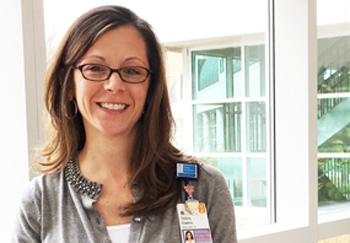 Debra Owens leads a busy life. A mother, wife, nurse practitioner, and manager of the Neonatal Intensive Care Unit at UVA Children's Hospital, Deb is responsible for caring for many people. Then, right before Easter last year, she developed a severe headache and noticed a drooping of her right eyelid.
She turned to her colleagues at UVA for help and received devastating news: The carotid artery in her neck, one of the main vessels supplying blood and oxygen to the brain, was dissected and almost completely blocked. Cervical artery dissection is a major cause of stroke in children and young to middle-aged adults. Thanks to the early diagnosis and treatment she received at UVA, Deb is now on the path to full recovery.
But recovery alone wasn't enough for Deb. "There is still so much to be learned about these rare cases of young stroke in order to better diagnose, treat and improve outcomes," she explains. Deb wanted to do something to show her gratitude for the exceptional care she received — and she wanted to help the next patient.
Gifts with the Power to Change Lives
Deb turned to UVA Health System's social giving platform, Get Involved, to help plan an event that would support healthy lifestyles and raise awareness for carotid artery dissection and young stroke.
"I love spin classes," she explains, "and I thought that we could partner with a gym in Richmond to support lifesaving research in UVA's Stroke Center. I was able to combine something that I was active in with a cause that's close to my heart." (Learn more about participating or donating in Deb's spin-a-thon.)
Every day hundreds of people like Deb see a need at UVA and seek to fill it. They support our efforts by outright gifts to programs, memorial gifts to honor a loved one or caregiver, or by hosting or participating in events that advance our mission.
In fact, there is no area of the Health System that hasn't been touched by private support. You see the physical impact of giving in big things—the Battle Building at UVA Children's Hospital, for example, or the Emily Couric Clinical Cancer Center. But private support also touches our patients in sometimes invisible but indelible ways. In the past, people like you have helped us:
Offer hand warmers and iPads to patients to keep patients comfortable during long cancer infusion stays
Create family space for newborns needing intensive care
Develop new techniques for diagnosing heart disease
Provide gas cards to families in need to help them travel to UVA for care they can't find close to home
Support special clinics for people with Alzheimer's, Parkinson's, and ALS
For individuals like Deb Owens, giving something back is especially meaningful. For UVA, strong community support helps ensure that state-of-the-art, comprehensive care is always available for you, your family, and friends—when you need it.
Thank you for being our partner.