Ever wonder what your doctor or health provider does outside the exam room? Our 7 Quick Questions series gives you a personal glimpse into the people of UVA.
Kelly Gwathmey, MD, grew up in Richmond, VA, and joined UVA in 2013. Her specialty is neuromuscular neurology.
1. What did you want to be when you were little?
A physician.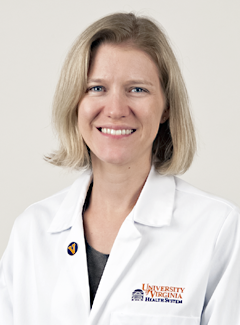 2. What's your favorite thing about Charlottesville?
The small-town feel.
3. What's the most unhealthy thing you eat?
Ice cream, rarely.
4. What's the most exciting thing/research happening in your field right now?
Stem cell transplant for ALS.
5. Why did you choose your specialty? 
I like the spectrum of diagnoses and the ages of patients I treat. I also love procedures, so it's a great combination of clinic (seeing patients) and doing procedures to support their diagnosis.
6. What's your favorite thing about working at UVA?
I have a wonderful department (Department of Neurology), and I feel well supported by my colleagues.
7. Who's your inspiration/hero?
My grandmother.