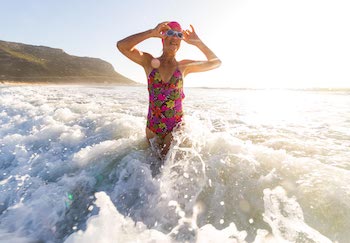 You know that date which marks another year in cancer remission. You may even call it your cancer-free birthday or your "cancerversary." Whether you mark it as the day you were diagnosed, the date you finished treatment or the date you were pronounced cancer-free — and no matter what you call it — it's a cause for celebration. Here are some fun and meaningful ways to honor that special day.
Set a Fun New Goal for Another Year Cancer-Free
During cancer treatment, you can get so wrapped up in being sick you forget how to live without the sickness. So, on your cancerversary this year, make a healthy new goal to take the place of cancer and spend the year making it come true. Think of it as your cancer remission New Year's resolution. Trying to work less or start a new business? Want to join a tennis group? Itching to make new friends? Curious about yoga? On your cancerversary, write down your goal and create an online vision board on Pinterest you can add to, or create a collage the old-fashioned way to hang on your wall. You can then outline how to accomplish your goal and a timeline for achieving it.
Vow to Help Other Cancer Patients
Since you've been through cancer treatment, you have a lot of wisdom, and maybe even a big box of hats, wigs and scarfs to share. Your cancerversary can be a catalyst to join a local cancer support group as a voice of experience to help the newly diagnosed and to learn from other survivors. According to the National Coalition for Cancer Survivorship, you can also speak at civic groups and church groups, as well as to medical students, social workers and others to educate them about life during and after cancer.
In April 2016, the UVA Emily Couric Clinical Cancer Center celebrated its fifth anniversary, and plans to celebrate every year ahead with special events to engage patients and honor survivors. Volunteer opportunities at the Flourish Boutique and various events are available to help you pay it forward during the annual celebration. Stay tuned for ways to help next year! As well, in honor of your cancerversary, you might make a donation to fund research or support a charity that has a disease-specific mission, such as the Breast Cancer Research Foundation (BCRF). You can also get involved with a local cancer walk to enjoy the camaraderie of other cancer survivors.
Plan a Trip to Make New Memories
Plan a new cancerversary outing to a place you've never been. You can even make a tradition of picking a place at random on a map, so you can celebrate being cancer-free with new experiences. Check the National Park Service and your state parks and county websites for hidden natural gems, history, music and art that might be located right in your backyard.
Pay It Forward

Celebrate your cancerversary by giving back. Learn More
Read and Give a Book
Kelly Turner's book "Radical Remission: Surviving Cancer Against All Odds" is a great gift to give yourself on your special day. It was written to help you take responsibility for your cancer-free life. This science-based, yet completely actionable book focuses on the nine healing factors Turner found in common with all radical cancer remission (after a terminal diagnosis) in over 1,000 medically-documented cases. All nine simple, doable factors can give you more ideas for your cancerversary. Or, if a different book spoke to you during your cancer journey, give a copy to another cancer patient or survivor in quiet honor of your own cancerversary each year as a sign of moving forward.