A Radiation Cure?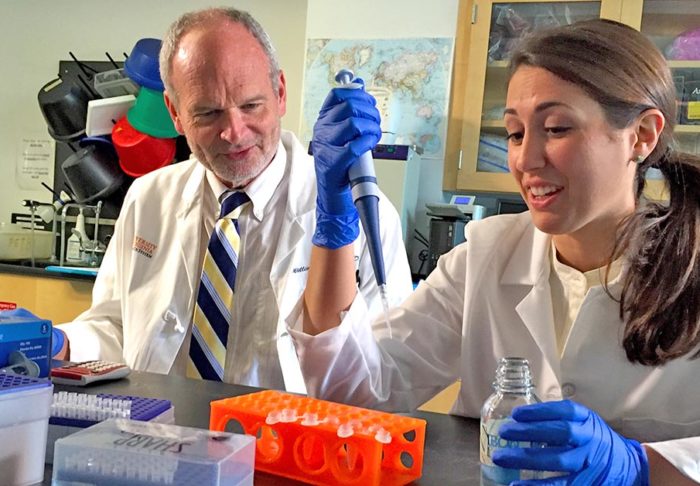 The Bite-Size Synopsis: Researchers have identified the first possible antidote for radiation exposure from things like terror attacks or nuclear accidents.
What This Could Mean for You: Currently, there is no cure for radiation exposure. But a cocktail of drugs and compounds that keep self-renewing cells alive may be the answer to heal the effects of radiation exposure.
Read more about the innovative approach to radiation treatment.
Understanding Cancerous Tumors
The Bite-Size Synopsis: UVA Health System and HemoShear Therapeutics, LLC, are working together to better understand cancerous tumors and develop new treatments.
UVA researchers developed HemoShear's technology to create more accurate models of human disease for a better understanding of how diseases develop and effective treatment methods. UVA will continue validation of HemoShear's existing tumor models and develop new ones.
What This Could Mean for You: A better understanding of tumor models means a better understanding of effective treatment. HemoShear has developed human tumor models for non-small cell lung carcinoma and pancreatic cancer, which means research for better treatment is underway.
"I am very excited to continue my work with the HemoShear platform to better understand complex cancer biology. Our goal is to one day use these models to develop optimal treatments for specific individuals' tumors," said Dan Gioeli, MD, associate professor of research, microbiology, immunology and cancer biology at UVA.
Life-Saving C. difficile Research
The Bite-Size Synopsis: Researchers have identified important immune cells that may protect against a potentially life-threatening C. difficile infection. These same cells are often seen as negative affiliates of asthma and allergies.
What This Could Mean for You: Taking antibiotics makes you more susceptible to C. diff. The infection kills about one of seven patients. These new findings suggest that researchers can develop new probiotics that can warn off C. diff, lowering your risks for infection and a possibly fatal outcome.
Get more information about the benefit of these "bad" immune cells.