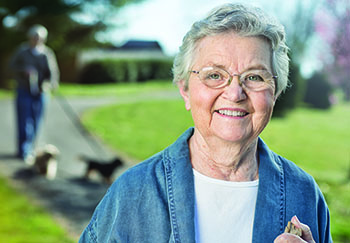 The birth of a child is typically cause for celebration, but not when it's nine weeks early. Actor Chris Pratt and his wife, actress Anna Faris, lived that nightmare when their son Jack was born weighing just three pounds, 12 ounces.
Jack pulled through and is now a healthy 4-year-old. Pratt, meanwhile, is outspoken in his support for prematurity research and prevention.
You can read more about Pratt, prematurity and healthy pregnancy tips in this fall's Vim & Vigor, our family health magazine.
Other stories in this issue:
Adjusting to a Colostomy
Carol Chisholm was diagnosed with rectal cancer eight years ago and had surgery at UVA. The surgery left her with a colostomy, an opening in her lower abdomen for eliminating stool. Carol has adjusted and now volunteers her time helping others adjust to a colostomy. Read her story and learn about how UVA treats colorectal cancer.
Read Fall Vim & Vigor

Get tips for starting the school year right and more family health info in the full issue of Vim & Vigor.
Which One is Tdap?
Back-to-school time sometimes means playing vaccine catch-up. It can be confusing keeping track of when your kids need vaccines and boosters. Check out this helpful guide to vaccines for adolescents.
The Benefits of Lung Cancer Screening
When Tracy Schonter showed her husband, Charles, a Vim & Vigor ad for lung cancer screening at UVA, he decided to make an appointment. He's glad he did: The scan picked up a lesion on his lungs, stage 1A lung cancer. Find out what happened next and who should get a lung cancer screening.
Three Siblings Undergo Kidney Transplants
UVA had done kidney transplants in families before, but never three siblings. That changed, though, when siblings Wanda Stuart, Kevin Johnson and Victor Stuart all ultimately developed kidney failure from high blood pressure. Within four years, they all got transplants at UVA.