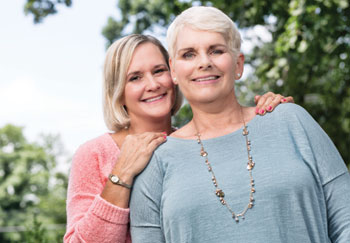 A Strong Voice for Thyroid Cancer
Sofia Vergara, known for her role in the TV show Modern Family, was diagnosed with thyroid cancer at the age of 28. She had a successful surgery to remove her thyroid and now lives with hypothyroidism every day.
Vergara takes pride in using her fame to help raise awareness about thyroid cancer and helping others recover from the disease.
Read more about thyroid cancer and Vergara's efforts to raise awareness.
Beating the Odds
Pam Barile of Lynchburg suffered a massive stroke at age 52. She was taken to UVA where she underwent multiple surgeries and spent three weeks in the ICU. The damage from a brain aneurysm was so severe that doctors thought that she might not make it through.
With the support of her family, friends and medical team at UVA, Pam was able to beat the odds.
Read Pam's inspiring story and find out why you shouldn't ignore high blood pressure.
Read Winter Vim & Vigor

Get tips for living healthy this winter and more family health info in the latest issue of Vim & Vigor.
Life Can Change in an Instant
Lisa Black, a teacher at UVA Children's Hospital, was involved in horrible car accident on the way home from work in 2014. An impaired driver struck her car head-on.
Lisa suffered a collapsed lung, broken left thigh bone, shattered right knee, broken collarbone, multiple broken ribs, four fractures in her neck, two fractures in her back and a crushed right hand. A team of UVA doctors and surgeons worked together to treat all of her injuries.
Learn more about Lisa's incredible recovery.
Living With Ovarian Cancer
Joan Oswald lived an active lifestyle so she was shocked after being diagnosed with stage 3 ovarian cancer at the age of 60. Joan came to UVA to have the tumor removed and receive three months of chemotherapy treatment.
Joan went into remission but the cancer returned less than a year later. She has continued to stay positive and live life to the fullest throughout the ongoing treatments.
Learn more about Joan's story and the options for treating ovarian cancer at UVA.