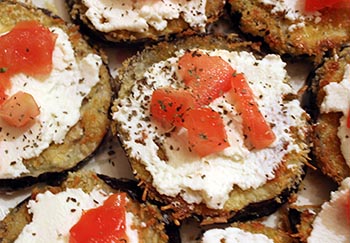 We're trying new heart-healthy recipes and will share the results with you. All recipes are from Club Red, UVA's heart health club for women.
My mom is a vegetarian, and eggplant is one of the few things we can agree on. And on the eggplant recipe hierarchy, eggplant parmesan reigns. While it's a lot of work, few things in life are better than hot, stringy, melted mozzarella cheese.
But even though it stars a vegetable, eggplant parm is hardly health food. Most recipes call for frying the eggplant and piling on lots of cheese and marinara sauce, which often has added sugar.
So when I saw this roasted eggplant slices recipe, I thought it might be a great substitute. Although Club Red categorizes this as an appetizer, I decided a couple of slices served with some whole-wheat pasta and another vegetable would make a well-rounded meal.
Preparing the Roasted Eggplant  
After I got out all of the ingredients, I sneaked a spoonful of the ricotta cheese. I wasn't convinced that part-skim ricotta would be anything but bland, but I was pleasantly surprised. It had a rich flavor, and I had to put the container back in the fridge to stop myself from eating more.
Get the Recipe
This is not a quick weeknight recipe, but it's probably less messy than traditional eggplant parm, since you're not frying anything. Also, while I followed the first step and let the eggplant sit under a heavy object, you could probably skip this step if you don't mind your eggplant being slightly more bitter.
I also skipped the cooking spray and just used nonstick cookie sheets, and I didn't have any issues with sticking.
Finally, since it's the dead of winter, and I didn't want to pay for that limp basil that the grocery store sells in the produce section, I used dried basil.
A Party-Worthy Recipe
I was delighted when I took the eggplant out of the oven, and it was actually brown and crisp! How often do recipes actually look like the photos?
More importantly, it was delicious. Often with heart-healthy recipes, I find myself wishing for more salt or cheese. The seasoning here was perfect, a great balance of cheesy saltiness, breadcrumbs and a hint of vinegar from the tomatoes. The eggplant was perfectly cooked and tender, and the different textures worked well together.
Best of all, this reheats well! I refrigerated the leftovers, and two nights later, put the slices (minus the toppings) back in the oven at 400 degrees for 10 minutes. It tasted just like it did the first time around.
If you like eggplant, this recipe should meet all your needs. It's relatively quick for the amount of food and leftover potential, the appearance will impress your guests, and it's delicious. I'm looking forward to making it for Mom.
Stars: 5 out of 5