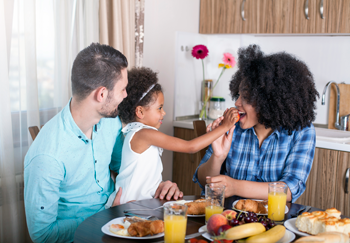 Although you may feel rushed, it's important to remember to take the time to start your day off right. Eating a healthy breakfast is important because it gives you energy and can help with weight control and improved performance.
The Benefits of a Healthy Breakfast
Pediatric dietitian Tegan Medico specializes in intensive care, digestive health, kidney care and organ transplants. "I believe in the importance of breakfast for fueling my work and preventing excessive cravings later in the day," says Medico.
Austin Shelly, a dietitian at the UVA Nutrition Counseling Center, provides nutrition counseling and coaching for patients with obesity and other chronic diseases. "It sets the tone for my day," says Shelly. "If I start my morning with a balanced meal, I'm more likely to think clearly and make better choices overall for my body."
Here are some of Medico and Shelly's favorite healthy breakfast recipes to get your morning moving.
Medico's Healthy Breakfast Favorites
Homemade trail mix & chai latte
Trail mix with unsalted almonds or walnuts, dried fruit and a dry, whole-grain cereal is quick to assemble, portable, convenient and allows me to eat at my own pace. The chai latte made with concentrated chai mix and 1 percent milk feels decadent, but it's easy to make and keep hot in a thermos. It also helps me meet my calcium and vitamin D goals!
Oatmeal
I have loved oatmeal since I was a kid, and it's easy to make this healthy and hardy whole grain delicious. I add frozen blueberries or raspberries, cinnamon, cardamom, nutmeg and a splash of 1 percent milk to old-fashioned oats.
Peanut butter & honey toast
A thick slice of whole grain bread with natural chunky peanut butter drizzled with honey and sprinkled with chia seeds and cinnamon is a yummy combination of whole grains, plant-based protein, healthy fats, fiber and just a little bit of sweetness. Adding thinly sliced apples is an enjoyable variation, and serving with low-fat plain yogurt makes for a well-rounded, nutrient-packed meal.
Gouda eggs & sautéed asparagus
For a weekend brunch, I make scrambled eggs with shaved Gouda cheese on top and sautéed asparagus with a little bit of salt and cracked pepper. Sometimes I will cook the egg over-easy and stack it with the Gouda and asparagus on a thick slice of whole-grain bread. The flavors blend well, feel indulgent and make you forget you're eating vegetables for breakfast!
Buckwheat pancakes with fruit reduction sauce
Another weekend brunch dish – the buckwheat provides a hard, satisfying, whole-grain pancake. I often mix chopped walnuts and dates into the batter. Instead of sticky, sweet pancake syrup, I combine frozen cherries, blueberries and orange juice in a saucepan with a little bit of honey and spices, and reduce it to a semi-thick liquid.
Shelly's Favorite Healthy Breakfast List
Two eggs on a whole wheat English muffin
This breakfast really keeps me fueled and full with over 15 grams of protein and the high-fiber muffin. If I have a little more time, I'll throw some veggies in with the eggs to make it more colorful and delicious!
3-4-ingredient smoothie
I usually use some sort of berry or whatever's in season and blend it with plain Greek yogurt, milk and peanut butter. I like that this contains high-fiber fruits, healthy fat from the nut butter and protein from the dairy. Smoothies are a great vehicle for nutrition, and you can add almost anything.
Get Started with a Nutrition Assessment

Meet with one of our registered dietitians today.
Banana bread oatmeal
Old-fashioned oats mixed with milk, half a banana, cinnamon and vanilla. This breakfast is one of my favorites for a cold morning. It tastes like it takes longer to make, but three minutes in the microwave, and I have banana bread oatmeal. Sometimes I stir in a little peanut butter to put an Elvis spin on it.
Trail mix
This grab-and-go breakfast is great on yogurt, mixed with milk or on its own. I usually make a blend of cereal, almonds or other nuts and dried fruit. This is a go-to for mornings I don't have as much time to pull out the blender or use the microwave or stovetop.
Banana pancakes
I use: one mashed banana, one egg, a small handful of oatmeal and a dash of cinnamon and vanilla. Cook this as you would any pancake – on the stovetop with cooking spray – and enjoy it topped with nut butter or a drizzle of honey and dollop of Greek yogurt. This lends itself to be handheld and portable or enjoyed at your kitchen table.