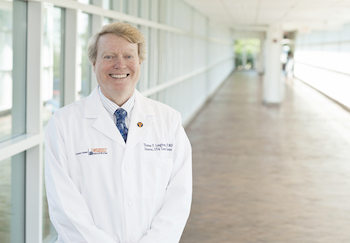 Welcome to the large granular lymphocyte leukemia (LGL) program at UVA Cancer Center. LGL leukemia is a rare disease that affects your body's white blood cells. Because it's so rare, people from all over the world come to our center after searching for a diagnosis or knowledge of their disease elsewhere.
Community and Understanding
Within the LGL Leukemia Program here at UVA, we see people from across the country and even the world. We have seen your disease, we have studied your symptoms, and we know what you're going through. We not only provide treatment, but we also have a strong research and support program, giving you access to the most advanced treatment options. Here, you can find care unlike, anywhere else, including an accurate diagnosis and a comprehensive understanding of your disease.
LGL leukemia is most often a chronic condition, meaning it progresses slowly. There's also a wide variation in symptoms, but many people experience fatigue, anemia or repeated infections. Many people diagnosed with the disease are also dealing with an autoimmune disorder.
When you're facing a disease that is diagnosed in fewer than 1,000 people a year, that commonality goes a long way. We will connect you to support groups or other resources to help you deal with the emotional and social struggles that go along with having a chronic illness.
Continuing Research
The medical community's understanding of LGL leukemia is relatively new but advancing rapidly. I first discovered the disease in the 1980s while working as a fellow at the Fred Hutchinson Cancer Research Center in Seattle. I studied the blood samples of a woman who was referred to the University of Washington for an unknown medical condition affecting her white blood cells. I noticed that her white blood cells were larger than normal, and these abnormal cells were all the same. This indicated that these unusual cells were replicating, or copying themselves (this is known as a clone). After studying the blood samples of other patients with similar symptoms, I realized that these characteristics were part of a unique disease that hadn't yet been fully characterized.
Since then, I have spent my career advancing the understanding of this disease and how best to help people. In the past three decades, we have made major strides in learning more about genetic factors in the disease and, most importantly, how to put it into remission.
A key part of the LGL leukemia program at UVA is our research efforts. We maintain a registry that helps us see similarities between cases and what's working to put people into remission. We also have continued research in labs and in clinical trials. UVA's research programs look beyond medicine to bring together the expertise of research scientists in biology, chemistry, engineering and physics to push the limits of what we can uncover and develop.
Our goal is to better understand the causes of LGL leukemia and develop better treatment options. People who come to UVA for treatment have the chance to participate in clinical trials and be at the forefront of the latest treatments.
Personalized Treatment
LGL Leukemia Program

The LGL Leukemia program at UVA Cancer Center offers world-class treatment for this rare diagnosis. Find out more about what the program offers for this specific set of cancer patients.
The goal of all these research efforts is always to translate that knowledge to clinical care, to bring your cancer into remission and, someday, develop a cure. When you come to UVA, you consult with the world's leading providers and researchers in LGL leukemia. You then have a care team that works with you to develop a treatment plan that fits your disease and symptoms and accommodates your lifestyle and personal preferences.
I encourage you to look around the blog to learn more about large granular lymphocyte leukemia, the UVA program and other concerns relevant to people dealing with cancer.
Thank you for learning more about the UVA Cancer Center, and please let us know how we can serve you.
Sincerely,
UVA Cancer Center Director