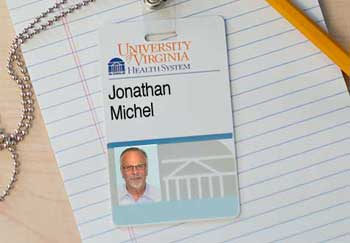 You may already know what data science is and, if not, you've probably at least heard of it. It's a rapidly growing field across many different industries. With the overwhelming amount of data being produced these days, it is more important than ever for businesses to not only manage the data but find ways to benefit from it.
Data Science at UVA
Data science plays an important role at UVA Health System; as the healthcare industry continues to change and evolve, it will become even more important. To find out more about how data science impacts patient care at UVA, I talked to Jonathan Michel, Director of Population Health IT.
Michel received his Ph.D. from UVA and has worked in data science and data modeling in various industries. He has been working at UVA for two years and manages a team of 10 data scientists. They're part of a larger analytics and reporting department within the health system. Since Michel started, he's seen his department grow from 19 to 35 team members, a direct reflection of the growth in data science.
The main focus of Michel's team is to use predictive data models to predict future results. So, what does this mean for the hospital and our patients?
Using Data to Improve Patient Care
In a nutshell, it means that data scientists are working every day to improve patient care through the better use of data. "We are not using the data for research purposes. We are providing data to those who can use it to directly improve operations," says Michel.
For example, one of the keys things his team has been working on is identifying patients at the highest risk of hospital readmission. They've built data models to help doctors predict if patients will have an unplanned readmission in the next six months.
Why is this important? By identifying those most at risk of readmission before it happens, doctors and nurses can take steps to reduce that likelihood. This data could help patients and their families avoid the stresses of being readmitted. It could also provide cost savings for the hospital.
Michel's team has also contributed their expertise to help reduce the number of hospital-acquired infections such as CRE (Carbapenem-resistant Enterobacteriaceae) and C. difficile. These types of infections are the most common complications that patients experience within the U.S., affecting one in every 25 patients each year.
The team is working to make the UVA infection data easily available to doctors, enabling them to better understand and track hospital infections. Using this data, they can determine which specific procedures and patient conditions are most likely to lead to an infection. This information can potentially lead to steps that prevent infections in those who may be at a higher risk.
Part of this effort involved creating interactive tools and online dashboards for doctors, nurses and administrators. For example, physicians can log in to see real-time data and monitor performance.
Future of Data Science in Healthcare
The potential for data science in the healthcare industry is looking bright. In a world that's becoming more digital and connected with each day, there is more data available than ever before. The healthcare industry is sure to see changes in the coming years, and data scientists will be able to help healthcare professionals provide better service to their patients.
Michel says that within the last couple of years, there has been an increasing awareness and appreciation among the clinicians of data models and their potential.
Now they're getting specific requests from doctors about new data they would like to see. People are increasingly seeing the value of data science. It can help improve patient outcomes and patient experience as well as reducing wasted time and resources for the hospital.
For Michel, the most exciting thing about working in data science at UVA is that, "It's easy to sell the mission. Having a direct impact on patients, making things better and working with great people. It's just a real positive."