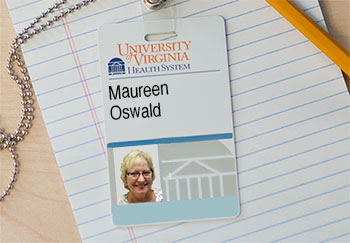 As a girl growing up in Long Island, NY, Maureen Oswald's mother had one request for Mother's Day: "I don't want chocolates or flowers," she'd tell Maureen and her siblings. "I want your time." And then Maureen's mom would take them to the annual Special Olympics track-and-field event that took place at Adelphi University. Maureen loved it. She loved it so much, in fact, that Maureen started as a volunteer for Special Olympics while a teenager and never stopped.
Now a volunteer coordinator here at UVA Health System, Maureen credits those early expeditions for helping her career path come full circle. And she's grateful to her mother for instilling in her a passion for service that has been lifelong. "It all started with her," Maureen says. "And now I pass it on."
Recreation Therapy
Not that it was exactly a direct journey. Maureen came to Charlottesville as a recreation therapist. "I was always a jock," Maureen says. "I had a passion for P.E." In high school, she lettered in four sports; in college, three. Therapeutic recreation combined her love of athletics and service.
And she loved her job. She started at the former Kluge Children's Rehabilitation Center in 1986. She describes it with relish. "Adolescence is my favorite developmental phase,' she says. "I supervised young people doing internships. And I ran horticultural, horseback riding and aqua therapy programs with kids."
The experience impacted Maureen and her husband. "We saw that there are kids right here in our own community who need homes, who have been neglected or abused or disabled in some way due to their home life. This changed my personal focus on how I could help kids in need. In addition to being a therapist, we became certified foster parents."
An Unhappy Accident
But then, disaster. One day in the early 90s, Maureen was at the Kluge pool with her patients. She and another person went to do a standard two-person lift – moving a patient from the wheelchair to the floor. Their timing was off, Maureen's back got pulled, and that was that.
"I was on light duty for a while and used my interns as extensions of me, but it was hard to manage that. Even working with less physical patients, you still, as a healthcare provider, need to be available to assist in some way."
Maureen could no longer work as a recreation therapist. It was a disappointing blow.
"I tried to find something where I could be a viable contributor without it hurting me further. So, for a couple years, I served in more sedentary positions while I had numerous procedures done on my back." Maureen worked in other parts of the hospital: corporate compliance and pediatric billing.
While there, she saw a lot of what goes on behind the scenes at a hospital. "The people are breaking their backs to get the referrals, the authorizations, the insurance approvals, all that to support patients coming to the clinic, so I'm glad I was part of the team for that period so I can look back and appreciate that part of my journey."
Discovering a New Path as a Volunteer
Then Maureen ran into an old colleague who was director of volunteer services. "I knew her because, while doing recreation therapy, I had been a beneficiary of the volunteer program – getting volunteers to help with aquatic therapy or therapeutic horseback riding. "
I said, "I'm looking for a job." She said she had a job opening for which I should apply.
The realization hit Maureen that her 20 years of volunteering could now launch her into a new professional path.
And it did. Maureen now coordinates the Junior Volunteer Program at the hospital, as well as working with UVA undergraduates for the Madison House program.
"The best part is, I'm still able to work with my favorite developmental group, teenagers," Maureen says, grinning. "I get to mentor and work with these young people and help them see that volunteering is the beginning of a lifetime avocation. It shaped me in my career, and what I chose to do, and it can shape them, too."
Daily Tasks of a Volunteer Coordinator
Bringing in a new volunteer can be very rigorous. Maureen explains, "They need to have the same onboarding process as an employee." To that end, she:
Helps them get their immunization records together
Gets them to orientation
Teaches about HIPAA — patient privacy — laws and how they apply to their role as a volunteer
Has them wheelchair-trained
Updates them on policy changes relevant to their roles
Coaches them on providing great customer service
A crucial piece of Maureen's role involves matching new volunteers to the right role. This is not always easy.
"Someone may come in and want to be an oncology visitor. But in an interview, it becomes clear to me they're not ready yet. Maybe they were here when their mother was in treatment, but it's too close, they haven't resolved all their issues. We don't want volunteers working out their issues working here. I'll redirect them somewhere else."
But Maureen believes that every volunteer represents the hospital and therefore must adhere to UVA Health System values. "We're quite upfront with people about what the standards are, and the high expectations," she says. "If somebody just isn't complying with rules and regulations, I have to have a critical conversation, and when someone is donating their time, it's difficult."
Everyday Heroes
Maureen doesn't just work with teens. She also interacts with adult volunteers — retired persons, couples, single moms, college students — all "wonderful people who choose to give back. Many of them are grateful families or grateful patients on the consumer end who decide a volunteer helped me during my stay here and want to give back. We have incredible daily heroes who come through the door, and I get to meet them. It's a humbling experience."
Volunteer at UVA Hospital

Inspired by Maureen's story? Find out about getting involved with our volunteer opportunities.
Employee Turned Patient
Talking about these former patients and their families-turned-volunteers sparks Maureen to talk about her own experience moving from the employee role to that of a patient.
Throughout her numerous back procedures, for instance, "I received incredible care."
But Maureen also has a daughter who, as a teenager, was diagnosed with cancer. Maureen remembers that time of crisis with sparkling, teary eyes.
"It was an honor to see our values in action, people protecting my privacy," she says. "My respect for our staff went up a notch. It was incredible and wonderful to see my colleagues, people whom I've met here and the volunteers and everybody respecting our healing process."
Does she ever hear from former volunteers?
"Yes!" Maureen exclaims. "I just gave a big hug to a person who is now a doctor. He was a volunteer at Madison House. Sometimes former juniors will poke their head in – someone who was here at 15 and is now a college graduate. Or I'll see them on the new employee list."
It wasn't what Maureen thought she would do or started out to do with her life. "But I like what I do, and I love my job," she says. Though Maureen doesn't have to say anything: A new volunteer walks in, and the smile on her face says it all.