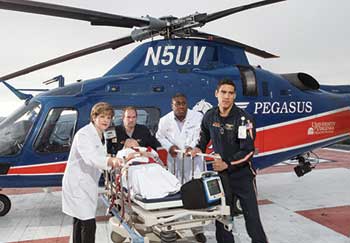 UVA is proud to be named a Comprehensive Stroke Center, the highest level of certification available from The Joint Commission and American Heart Association/American Stroke Association.
This certification places us in the top three percent for stroke care nationwide. We are one of three Comprehensive Stroke Centers in Virginia.
The certification means our team is ready 24/7 to deliver the most advanced care for stroke and stroke complications and meets rigorous standards for caring for the most complex stroke cases.
The Most Advanced Treatment for Stroke
Comprehensive stroke centers are the only stroke centers to offer:
Care for all types of strokes, including bleeding (hemorrhagic strokes), like those caused by brain aneurysms
24/7 access to advanced treatment options, including minimally invasive catheter procedures
24/7 access to complex neurosurgical treatments, including brain aneurysm clipping, vascular malformation surgery and carotid endarterectomy
Neuroscience intensive care unit (ICU) staffed by care providers with specialized training in neurocritical care and featuring advanced technology for treating stroke
Accepts patients transferred from other stroke centers
Know the Signs

Look for these signs and think F.A.S.T.:

Face — an uneven smile, one side of the face drooping
Arm — one arm is weak
Speech — slurred speech
Time — call 911 at once
Stroke Risk Factors
Eighty percent of strokes are preventable, according to the American Stroke Association. Talk with your doctor about your personal risk factors. Risk factors include:
Atrial fibrillation (afib)
Diabetes
Family history of stroke
High blood pressure
High cholesterol
Not being active
Obesity
Poor circulation
Smoking