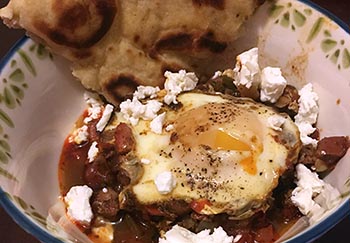 This recipe was approved by Katherine Basbaum, a registered dietitian with UVA's Heart & Vascular Center, for meeting heart-healthy guidelines!
Shakshuka is a flavorful north African baked egg dish with sautéed peppers, tomatoes and spices, topped with poached eggs and herbs. It's one of those dishes that sounds fancy and complicated but is actually very simple and delicious. It's the perfect dish for a cozy fall dinner or a savory brunch with friends. Plus, it has the added bonus of being a healthy vegetarian option with tons of flavor. Meatless Monday anyone?
Simple Ingredients, Tons of Flavor
The first time I had this dish at a restaurant, I was convinced it must have hundreds of spices I had never heard of. After realizing my obsession for this savory egg dish was getting expensive, I was determined to make it myself. Imagine my delight when I realized that the ingredients are spices most of us have in our kitchen and vegetables that are staples for many meals.
Weeknight Favorite: Quick & Easy
Before you do anything else, preheat the oven to 400 degrees. This way it can heat up while you prepare everything and you won't be stuck, like I was, pacing around waiting for it to warm up.
Once all the ingredients are assembled, it only takes five minutes to sauté the vegetables until they are tender. Then you throw in the tomatoes, water and spices and let that baby simmer on low heat while you finish folding clothes, or if you're like me, pretend to fold clothes while acting like you're a judge on The Voice.
Once the sauce has cooked down some and you've carefully tried it for flavor, crack four eggs directly into the sauce and put your skillet directly into the oven. (I used a cast iron skillet to make it easy to cook on the stove top and then move the entire skillet into the oven. You can use other types of pans as long as they have no plastic handles.)
My Shakshuka Recipe: The Verdict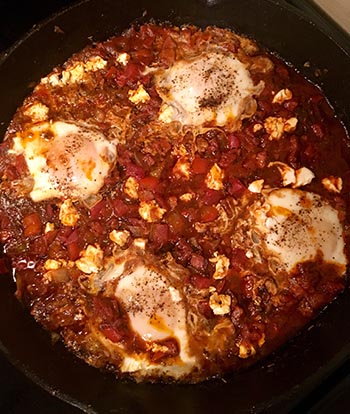 Winner winner veggie dinner! After only 7 short minutes in the oven, the egg was cooked and the sauce looked vibrant. I threw some crumbled goat cheese on top and dug in.
The tomato base of the sauce made it warm and comforting, like you're eating your favorite soup, but the addition of the vegetables and spices provided a little crunch and depth of flavor.  The acidity of the tomatoes works great with the creaminess of the goat cheese and poached egg. It felt like a warm hug on crisp night.
Best of all, you can eat it with whatever you like. I suggest toasted pita bread or naan to dip into it or some roasted asparagus.
If you're looking for simple autumn weeknight or brunch meal and are willing to go outside of the box, this is the perfect choice. It will impress in both flavor and appearance and get you major chef points.
Stars: 5 out of 5
Shakshuka Recipe
This is a combination of recipes on Smitten Kitchen and Feasting at Home, plus my own touches.
Prep time: 10 mins
Cook time: 30 mins
Total time: 40 mins
Serves: 4
Ingredients
3 Tbsp. olive oil
1 large red bell pepper, thinly sliced
1 deseeded jalapeno
1 small yellow onion
3-4 garlic cloves, diced
¾ tsp. salt
Cracked pepper to taste
1 tsp. cumin
1 tsp. smoked paprika
½ tsp. chili flakes
1 28-oz can low-salt fire-roasted diced tomatoes
½ cup water
1 Tbsp. fresh basil ribbon, chopped Italian parsley or cilantro
4-6 extra-large organic eggs
Other optional additions
Crumbled feta or goat cheese
1 Tbsp. Harissa
Instructions:
Preheat oven to 400 F.
In a large cast iron skillet, heat the olive oil over medium heat. Add the onion and cook until tender, about 5 minutes.
Add the sliced peppers and garlic, turn heat down to medium-low, and cook for 5 more minutes, until peppers are tender.
Add all spices.
Cook for 2 more minutes. Add tomatoes and water.
Simmer on low for 15 minutes, adding more water if it gets too dry or thick. You want a stew-like consistency. After tomatoes cook down, taste — it should be full-flavored. Adjust spices if necessary.
Crack 4-6 eggs over the mixture, sprinkling each egg with a little salt and cracked pepper.
Add crumble goat cheese or feta (optional) over the top and place in the 400 F oven. Bake about 7 minutes, or until egg whites are cooked and yolks are still soft. Remove from oven and top with fresh basil (or cilantro or Italian parsley). Serve with naan or crusty bread.