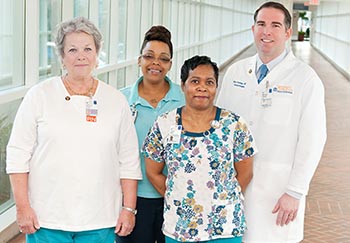 Radiology team member Kaity Tomlinson contributed this post. 
The Department of Radiology and Medical Imaging has launched a new resource specifically for patients: InsideView is our unconventional blog, intended to bring patients behind the scenes and help answer their radiology questions before they arise. Just as radiology gives our doctors an "inside view" of patients' bodies, we want this blog to give our patients an "inside view" into radiology at UVA.
If you think about it, your medical care often begins with the need to diagnose a problem using medical imaging — like an X-ray or MRI. A radiologist's findings kickstart a series of events. They fall like dominoes, one after the other: diagnosis, further testing, treatment plan, treatment, and, hopefully, restored health.
Our aim at InsideView is to explain the easily-overlooked importance of radiology within healthcare. As the UVA Health System seeks to give the highest quality of care, we hope to be a companion to patients to help educate them about the process and lay out their care choices simply.
What is UVA Radiology About?
If you come visit us at InsideView, you'll see the kind of things we talk about. We've discussed:
Read our Radiology Blog

Check out InsideView.
We believe that medicine and the modern health system could not possibly function as they do without imaging. And we know the fantastic work our department does day in and day out to help the UVA Health System brings excellent care to our patients.
We hope you will join us as we give you an "inside view" into the previously hidden, fascinating field of radiology and medical imaging.