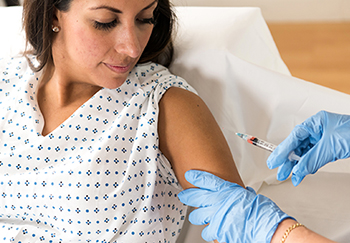 In October 2002, Fern Hauck, MD, opened the doors to a refugee clinic: the International Family Medicine Clinic at UVA.
It was the start of something that was badly needed in central Virginia: comprehensive, culturally sensitive, high-quality healthcare to the growing immigrant and refugee populations in the area.
In the 15 years since then, the refugee clinic has seen over 3,000 patients, a quarter of whom have been children.
"I've seen it grow from two providers to many, many providers," Hauck says. "There are so many stories."
Stranger in a Strange Land
Vacationers on holiday may find a trip to a strange country with foreign languages and customs an exciting change of pace. But families relocating to the U.S. are often fleeing tragic circumstance. They must navigate unfamiliar territory with the goal of daily survival, often without much in the way of monetary resources or social support.
For these families, the logistics of going to the doctor can prove stressful and disorienting, especially when sick or injured. Plus, "the environment of a huge healthcare system is quite foreign from what people are used to in many different countries around the world," Hauck says.
One of her patients, Freshta Naseh, who arrived in 2008 from Afghanistan, says that in her country, "I never went to the public hospital." If she wanted a regular check-up, she'd have to visit a private doctor's office, where "they charge patients a lot, $100 for a visit. We didn't have a family doctor." Naseh remembers going to get help only when her son was very sick.
Upon arriving in Charlottesville, Naseh's husband, an interpreter for the US army, was deployed. "I had a lot of problems, alone with three young boys and speaking no English," she says. But the agency that helped her family come to Charlottesville referred Naseh to the UVA clinic. "Hauck was our family doctor from the beginning," she says. "When you get here as a refugee, you have to have everything checked — blood tests, checkups. I found them to be supportive. "
Which is exactly what Hauck had hoped the clinic would be. Especially when people need healthcare as soon as they arrive in the country.
"It's not unusual for someone to get off the plane with a fever and end up in the emergency room with malaria, acute parasitic diseases, or hepatitis. They come with various illnesses more common in tropical climates, like Burma, Bhutan, Nepal, Africa."
A Refugee Clinic for the Whole Family
As a family medicine clinic, providing prenatal care, well-child visits and adult healthcare, "we take care of multi-generation families, so when a family comes, they can come to one clinic, and it's not so overwhelming." Certainly, for Naseh, the ability to visit the doctor with her children in a single visit made going to the doctor "a good experience."
Naseh's story illustrates how the clinic offers the refugee population "an enormous benefit. We pave the way for them to enter the big maze of healthcare," Hauck says. One way they do this: With the help of a dedicated nurse care coordinator, "who helps with the complexity of care refuges need from point A to point B."
Also key for improved access and ease in the clinic: Interpreters. "80 to 90 percent of our patients do not speak English on arrival," Hauck says.
"Patients tend to just be very grateful that there are interpreters; they've been in a lot of situations where they haven't been able to communicate with people," notes Claudia Allen, PhD, who provides family therapy to many of the clinic's patients. "The fact we have translation services is great."
"They provided me an interpreter and made it very easy for me," Naseh says.
Where Do the Patients Come From?

The immigrant and refugee patients come from around the world:

Bhutan
Iraq
Syria
Afghanistan
Burma/Myanmar
Democratic Republic of Congo
Somalia
Liberia
Sudan
Columbia
The former Yugoslavia/ Serbia/Croatia
Turkish from Russia
Health Prevention & Education
Educating patients about preventative healthcare is also a big part of the clinic's work. "We see older people with the same chronic diseases as Americans — diabetes, hypertension, high cholesterol. They've may have never been treated for these problems," Hauck says. For some, the concept of these conditions and their risks is entirely new. "It's something you don't feel sick from, so why would you treat it?"
She gives the example of a woman from Iraq in her 60s who had "out-of-control" diabetes and hypertension, as well as anxiety and PTSD. "Over the years, we've managed to help her get better, to get her conditions under control."
Helping patients adopt healthy living practices, step by step, has proved successful.
"We help keep them healthy so they don't end up being admitted unnecessarily or in the emergency room," Hauck adds.
Health Issues in the Extreme
And then there's just being able to offer care that wouldn't have been available at all. Hauck remembers a Bhutanese man arriving from a refugee camp in Nepal who had chronic renal failure. "He came here, went to dialysis and then got a kidney transplant. It's a wonderful success story. He would not have had that in the refugee camp or in his home country."
Emotional & Mental Challenges
She also points out the presence of "enormous mental health challenges — depression, PTSD, anxiety," generated either from trying to acculturate to a new society or from trauma that caused them to move here in the first place.
"At least 25-50 percent of the adults we see have some degree of mental health challenge, from mild depression to debilitating PTSD, depression or anxiety," Hauck explains.
Which is why the care team at the clinic includes mental health providers at the Family Stress Clinic, located next door. Refugee and immigrant families can access mental health services without leaving the location.
Allen, director of the stress clinic, says, "They have a lot of grief and loss. They've left lives. Oftentimes they've left family members, not everyone has been able to come. Sometimes there's anxiety: are they going to make it? Are they going to have enough? Are they going to survive? "
Refugee Children
"We also see a lot of children who have never been diagnosed or treated for developmental issues," Hauck says. "So, we get them plugged into appropriate services and treatments." She talks about "Kids who didn't have an adequate wheelchair or access to special education or occupational therapy, who are now really thriving."
Even when there aren't medical issues, children and their families sometimes require therapeutic support because of the cultural differences at play. "Their children start going to school and becoming Americanized, which is different than the culture at home, and that can lead to a lot of adjustment issues, especially for teenagers," Allen says. "You know there's different cultural expectations around dating, gender roles, independence, schooling; part of our role sometimes is just from the family therapy point of view in helping families talk about these issues and communicating about them."
Give to the Refugee Clinic: Help the Healing

The International Family Medicine Clinic often provides immigrants and refugee families with baby baskets and other necessities. Consider contributing to this effort with a monetary donation to the clinic. Contact Fern Hauck, MD.
A Model Clinic
As refugee health clinics continue popping up around the country, and as communities around the world face a growing refugee crisis, Hauck feels extremely grateful for the opportunities this clinic has had being at UVA.
"We have the advantage of being at a major medical center, with access to interpreters, and various collaborations," she says. "Unlike other places, we're able to offer a professional, collaborative, coordinated approach to our patients."
Staff regularly learn and study up on the cultures and events that shape the lives of their patients to help them understand and relate more effectively. "The refugees tend to come in waves depending on what's going on in the world, so typically we do some reading individually or as a department or have presentations to help us understand what people's expectations are. It's really fascinating. We learn so much. We're so lucky to learn all this and be enriched by it," Allen says.