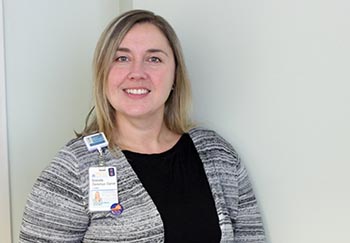 There's much more to healthcare than preventing and treating diseases. Patients often shoulder many burdens: inadequate health insurance, untreated mental illness, family problems, abuse. They may have to travel several hours for healthcare. They may be hungry because they can't afford food or don't have transportation to the store.
A clinical social worker can't necessarily solve those problems. But often, a social worker is the first step toward getting help, by building the bridge between the patient and a psychiatrist, an emergency food bank or other needed services.
For UVA's University Medical Associates clinic (UMA), which provides primary care to 120-150 patients a day, that person is Brenda Doremus-Daniel.
What is a Social Worker?
Doremus-Daniel has a handout with more than 30 bullet points listing the ways clinical social workers can help patients and their families. They include:
Crisis intervention, such as suicidal or homicidal threats or domestic abuse
Substance abuse assessment, intervention/counseling and referrals for more help
End-of-life support
Hospice care planning
Help with coping and adjusting to illness and hospitalization
Social work, she says, is about looking at and taking care of the whole person: physical health, emotions, religious and spiritual beliefs, family, friends and community. Social workers may help children and adults of all ages.
Social workers with bachelor's degrees focus primarily on case management and connecting individuals with community resources. Doremus-Daniel has a master's degree and a license in social work, which means she has additional education and hands-on training in assessment, assessment, diagnosis, suicide screening, counseling, working with challenging situations and medications for mental illness. Although she can't prescribe medication, she can help patients and their families get through tough times such as the death of a loved one, and refer them to a psychiatrist or other doctor for medication, if needed.
Social Workers at UVA
Roughly 100 social workers work at UVA Health System, including 24 at outpatient clinics, 24 in the hospital, and seven in the emergency room. In fact, there's a social worker in the emergency room 24/7. Most of the team at UVA's Faculty and Employee Assistance Program, which offers counseling for UVA employees, are social workers.
Doremus-Daniel is part of a team of eight who work in different clinics; she's the only one at UMA. They fill in for each other and take turns responding to patients and families who call the social work phone line with concerns.
Doremus-Daniel's job mostly focuses on mental health. She provides education and treatment for patients with depression, anxiety and challenges in coping with stressors or helping those with more serious mental illness. She may need to quickly refer them for psychiatric care, especially if the person is suicidal. Other patients need counseling to help them adjust to new diagnoses that prevent them from working or other activities.
She also connects her patients with other existing mental, physical and emotional health services, such as:
Hospice
In-home care
Food banks
Transportation
Becoming a Clinical Social Worker
In high school, Doremus-Daniel didn't even know what social work was. She grew up in a rural town northwest of Philadelphia and fell in love with UVA and Charlottesville when visiting colleges. She enrolled in UVA's nursing school, but she started liking her psychology classes more so switched majors.
She began applying to graduate programs in psychology. But then she had a life-changing conversation with her thesis advisor, who told her, "You're really passionate about social justice. You're really passionate about people. You're less interested in research. I think you might want to consider social work."
After graduation, Doremus-Daniel took a year off and worked at a sexual assault resource agency in Charlottesville, where she learned more about social work and solidified her path. Then she went to Virginia Commonwealth University to pursue a master's in social work. At the time, she had just gotten married and bought a house, so she commuted to Richmond from Charlottesville.
The Pull of Medical Social Work
Doremus-Daniel was introduced to healthcare social work while she was still in graduate school, completing a field placement at the former UVA Kluge Children's Rehabilitation Center. After getting her license, she got a job at a foster care adoption agency, DePaul Community Resources. Two weeks later, UVA called and offered her a hospital job.
"I thought it would say something about my character if I left a place that had trained me for two weeks already to take a job," Doremus-Daniel said. "So, I politely declined UVA and said, 'Please consider me for the future.'"
She stayed at DePaul for 15 years and ultimately became an administrator. But the clinical possibility "kept pulling me. The idea of healthcare social work, I really did like that. So, I felt like I owed it to myself to return to the roots."
She came back to UVA in 2012 and worked in a variety of hospital units — neurosurgery, pediatrics, the pediatric and neonatal intensive care units and the emergency department. Then she decided to take a break from full-time hospital work, but she filled in as needed and supervised recent graduates working toward their social work licenses. She also had a private practice, counseling both at a homeless shelter in Staunton and children and teens at DePaul.
Coming to UVA Medical Center?

Get more information about social workers and other hospital support services.
Not surprisingly, all this added up to more than a full-time job. So, she stopped, came back to UVA full-time, and began the UMA job over a year ago.
Coping With Stress & Avoiding Social Worker Burnout
Doremus-Daniel's days are busy: Some patients have appointments, but she also does her best to accommodate those who just stop by her office, sometimes after their doctor recommends a visit. She's also available by phone when patients need to call from home. Although her days are busy, Doremus-Daniel loves that they're never monotonous.
But the work is stressful.
Social workers invest themselves into someone who is having a really tough time, she explains. "That takes a lot of emotional energy, and it can leave us sometimes needing to remember what we tell others — to practice good self-care and breathing, work-life balance — all those things are really important to be able to do this for a long time." For her, self-care includes long walks, playing piano and even just a deep breath at the beginning and end of the work day.
Doremus-Daniel is busy outside of work as well. Two of her three kids are in high school, with the youngest in kindergarten.
Her words of wisdom for anyone interested in social work? "The rewards are great. … Every single day, I know that I am making a difference and have a very clear, identified purpose. And that is priceless."