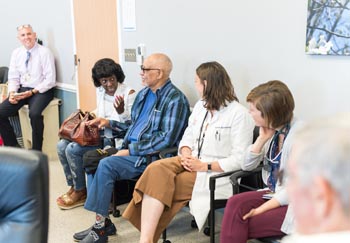 Bill Potts, licensed clinical social worker, has worked with UVA transplant patients for almost 23 years. And yet, "23 years later, I still marvel at the amazing transformation patients go through after transplantation."
Thanks to organ donation, Potts has seen patients go from near-death to, after transplant, running marathons or raising twins. He works with patients in any stage of that transplant journey, from waiting to get listed to adjusting to a life with a new organ and new medications.
Becoming a Transplant Social Worker  
Potts was born and raised in West Virginia. He attended West Virginia Wesleyan College for his bachelor's degree in psychology. He knew he wanted to be in a profession where he could help people. So the dean of students, who had a master's in social work, encouraged Potts to follow in his footsteps. Potts found that he really felt fulfilled when helping families in crisis.
Potts attended West Virginia University to earn a master's in social work and then headed to the University of Pittsburgh for post-graduate training in family therapy.
After five years in Pittsburgh, Potts took the job at UVA because, "I really enjoy helping patients and their family members negotiate chronic/critical illness. It's rewarding to help someone through a life-threatening illness and see their life return to normal."
Once a month, he gets to see that all come together, at a special transplant support group open to anyone, even family members or non-UVA patients. Potts says it's "the highlight of my month."
Judgement-Free Support for Transplant Patients
Potts has cultivated a culture of open communication that's free of judgment. He guides the discussion at the transplant support group but ultimately allows members to own the conversations.
"I can counsel patients on what to expect, but nothing beats that peer aspect," he says. "Their experience is unique, and they tend to find solace in supporting each other through the same process."
Doctors or other members of the care team will often attend the support group meetings to talk to their patients or family members in a more casual setting.
Some patients even travel two to three hours to attend, coming from Richmond, Tidewater, or northern Virginia.
Come to the UVA Transplant Support Group

When: Fourth Thursday of every month, 11:30 a.m. – 1 p.m.
Where: 4th Floor Strickler Transplant Conference Room, UVA Transplant Center

Get more information about transplant support.
"Since I've been leading it, I can't remember a time when there hasn't been someone that comes," said Potts. "We've had individuals who have been coming for a decade."
Some attend because they need support, and others attend to offer it.
"The long-timers mentor, comfort, and reassure others," Potts said. "They are so grateful they've been given the gift of life. The way they respect their transplant is to help others. … They appreciate how close to death they were and how fortunate they are to have restored health."
At a recent meeting, members laughed about pranks they played on their nurses and expressed thanks for their care team with comments like, "They are all wonderful," and "Don't give up because they don't."
Potts is glad patients experience the dedication and compassion he sees happening every day.
"From the person who greets them at the door, parks their car, to the person who checks them in, there is a sense of caring. … I feel fortunate to be a part of the transplant department."