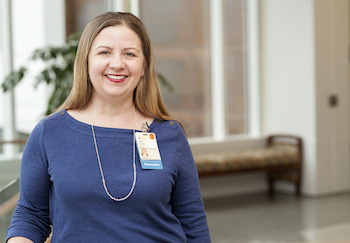 We go through life thinking we're invincible, saying, "This would never happen to me." But what if it does one day? What if you woke up one day feeling like Superman, only to find out you'll feel like Eeyore the next?
That's the dramatic shock when you are diagnosed with colon cancer. And in young adults this is becoming more common every day. According to the Colorectal Cancer Alliance, in the U.S. 10 percent of colorectal cancer cases are patients under the age of 45. It's the second leading cause of cancer-related deaths, largely because it normally doesn't show symptoms until later stages.
Be Aware of Colon Cancer
If you do have symptoms, you may experience:
Blood in or on your stool
Stomach pains, aches or cramps that don't go away
Losing weight without knowing why
The American Cancer Society estimates there will be 101,420 new cases of colon cancer in 2019. Providers are encouraging young patients to be aware of the symptoms, know their family histories, and share any concerns with providers. The most common risk factors are weight, alcohol consumption, family history and/or inflammatory bowel conditions.
The Pieces to Dunn's Puzzle
Lori Dunn is a lucky patient, and she's forever grateful for her UVA team of providers.
Some facts about Dunn:
She was 41 when diagnosed
She wasn't overweight
No symptoms
No immediate family history of colon cancer
Seems like a healthy patient, right? Wrong.
The Path That Saved Dunn's Life
Dunn's story begins with a combination of her older sister and UVA's HoosWell program. When her sister went to her doctor for a colonoscopy, the results came back with an abnormal number of polyps. Thankfully, none of her polyps were cancerous.
Dunn then scheduled her annual primary care exam. As a UVA employee, she wanted to take advantage of the HoosWell program which provides perks for health activities.
In the fall of 2017, Dunn met with Kimberly Dowdell, MD, her primary care provider. They discussed her sister's findings. Dowdell had that gut feeling something was wrong. Dunn mentioned her mother had ovarian cancer and her grandfather passed away from colon cancer. With the additional concern that colon cancer in young adults is increasing, Dowdell wanted advice from a gastrointestinal specialist.
Dowdell runs the UVA eConsult program, which offers primary care doctors a chance to get quick answers from specialists versus having to wait several months. The program is growing and already has 15 adult specialties and three pediatric specialties. Since Dowdell had access to a gastroenterologist through the program, she sent a request to advise on the next step for Dunn.
Within 72 hours, Rachel Ann Hays, MD, received the request and recommended that Lori get a colonoscopy. But because Dunn was under the recommended screening age, getting insurance to pay for this could be difficult. Since she was able to provide documentation that a GI doctor recommended this due to family risk factors, her colonoscopy was approved.
After the Colonoscopy: When Dunn's World Changed
Within two weeks of her initial appointment, Dunn had her colonoscopy. Amy Doran, MD, did remove a few polyps which were concerning. Over a week later, the results showed it was colon cancer.
"I wasn't entirely surprised, but I was a little shocked," Dunn says.
Dunn relives that day when Doran called her with the results. "I found out at 2 o'clock in the afternoon and by 4 o'clock I had a plan in place. Doran had talked to Dr. Friel and scheduled me for a CT scan. I had to go for a repeat colonoscopy for marking 48 hours later. She was wonderful!"
In a whirlwind of events, and a number of doctors came together to get Dunn ready for surgery. "It was great because everyone made sure I was included in the decision-making. All the physicians involved encouraged an open discussion about the treatment plan. They were open to me messaging through MyChart with any questions or concerns. It has turned a scary situation into an overall a positive thing for me," Dunn explains through tears. There was no question in her mind that UVA was the place to handle her diagnosis.
Four weeks later, Dunn had her surgery. Charles Friel, MD, performed the laparoscopic surgery and removed 1-foot of her colon.
Dunn stayed in the hospital for two days recovering from the surgery. With the use of the Enhanced Recovery After Surgery program, she was able to get home to her family sooner. While she experienced some temporary pain when moving, it wasn't anything more than she felt she could handle. Dunn was able to resume normal life quickly, with a modified diet while recovering.
Waiting for Peace of Mind
Dunn had to wait a week before finding out more details about her cancer and if the surgery removed all the cancer. Her test results went to a board of experts for review. Doctors diagnosed her as stage 1 and found that the surgery removed all the cancer.
Dunn's diagnosis was caught early that surgery was curative. She was truly thankful that Thanksgiving holiday, as she was able to spend it with her loved ones a couple of weeks later.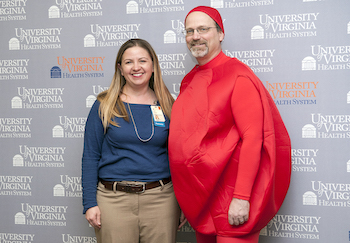 The Chance for Dunn Post-Surgery
Dunn decided to follow her doctors' suggestion to get genetic testing done at UVA. Based on her family history, she could have Lynch Syndrome, a genetic predisposition to different types of cancer. This would increase her risk of cancer and her children's. Her results were negative.
She will continue to get a colonoscopy every year. She hopes that if cancer returns, it's found early again. If her yearly screenings are normal, Friel believes eventually they could be pushed out to every three to five years.
Dowdell will continue Dunn's care and screening follow-ups.
Dunn's daughters will have to get their first colonoscopy at age 31. Experts recommend you start screening when you're 10 years younger than the age your parent was at diagnosis. Since Dunn's mother battled ovarian cancer, Dunn and her doctors have planned that by 45 years old, Dunn will have a hysterectomy.
It's an emotional story to share because one small misstep could've led her down a different path. Dunn is happy to share it and says, "Being free of cancer is worth it!"
She also appreciates all the love and support from her co-workers, who picked up her shift and workload while she was out.
Get a Colon Cancer Screening

Talk with your primary care provider about different types of colon cancer screenings available.
Screening for Colon Cancer in Young Adults
Dunn didn't fit the normal colon cancer patient guidelines, but then again, everyone is at risk. Age is normally the biggest factor. Some providers are starting to recommend screenings at age 45, but it's best to talk to them about your personal care.
Dunn's doctors urge patients to get annual exams and share everything with your healthcare provider. They also stress that open communication with your provider allows the medical team to put together the puzzle pieces.
Friel understands people may be embarrassed to talk about poop and colon health. But you need to share symptoms with your doctor. It's also important to tell family members about new diagnoses so they can support you and know more about their own risk factors.
Colon cancer can be treated if caught early. If doctors find it at an early stage, there's a 90 percent chance of a 5-year survival rate. But right now, only 39 percent are diagnosed at an early stage due to low screening participation. Talk to your provider about:
Our motto is: "Be kind to your colon!"