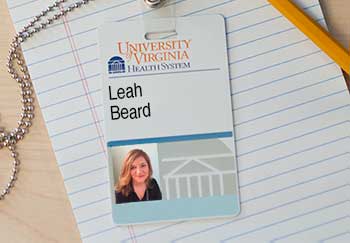 The KKK rally and white supremacist attack on Charlottesville in 2017. Immigration policy debates throughout 2018. Recent shootings in mosques, temples and churches.
In the past two years or so, events like these have intensified the public conversations about bias and diversity. Across all sectors of public life, issues have come to light and tensions have flared. As assistant director for UVA School of Medicine's Office for Diversity, Leah Beard's world has been busy.
"We have noticed an uptick in the number of patients who feel emboldened to make comments about their healthcare providers' gender identity, sexual orientation, race, ethnicity," Beard notes. "Those things have increased over the past two past years."
Beard's been in this office for five years. She was hired, she says, "essentially to help with marketing and communications," but then she moved into the role of managing budgets and projects. She also trains people on unconscious bias and conducts biennial diversity engagement survey.
But with the heightened desire to address bias in the interactions that take place at UVA  — between doctors and patients, employers and employees, teachers and students — the scope of Beard's efforts has broadened.
Helping Providers Respond to Patient Bias
Beard and a discriminatory behavior task force have begun to develop a new training for healthcare providers that will help them respond when a patient uses a racial slur, for instance.
One example Beard shares: A interaction where "a patient asked their physician 'where are you from?' When the physician responded 'here,' the patient countered with 'no, where are you really from?' This implied that the physician did not belong, because they did not physically meet the patient's idea of how a doctor should look. This patient's bias affected and undermined not only the doctor, but the other hospital staff treating the patient."
What is Unconscious Bias?

An automatic, unquestioned response or judgment of a person or situation.
Bias can be gender-based, too. "Many times, patients assume that females are not physicians. Or in meetings, a female will be asked to take notes when this is not the role of that particular employee."
Beard hopes the new training will help physicians, residents, medical students, nursing staff and anyone who has patient contact feel more comfortable responding when these things happen.
"They need something they can keep in their back pocket," Beard explains. "We encourage respect, and that's one thing the Health System has been good at doing. We will go to bat for our employees. If a patient is not in an urgent care situation, and they make disparaging comments, we can essentially say, 'We respect everyone who works here, and you need to do the same. And if you don't, we need to have a deeper conversation' – which is not something people felt comfortable saying to patients in the past."
Diversity & Inclusion Jobs Throughout the School
Beard also supports individual medical school departments with implementing and owning their progress toward inclusion.
"Every department has a diversity facilitator," she says. "They were tasked last year with creating diversity plans. From those plans I've created a score card that we update every six months or so, with each department, to make sure they're staying on task with their diversity initiatives."
Recruiting Students & Faculty with Diversity in Mind
Beard also helps with recruitment. She attends conferences to network with medical students, hoping to bring in a more diverse group of residents and students. "Our student body right now is good, but we're looking to improve that. Our house staff has improved their diversity demographics. But the ultimate goal is to improve faculty demographics."
Interested in Diversity and Inclusion?

Beard recommends:

Report an Incident: Just Report It!

Book: Everyday Bias by Howard Ross

Magazine: "Insight Into Diversity" issues available online

Social Media: Follow our office on social media
Several challenges make attracting and hiring people of color and other minorities a difficult task. "Charlottesville in itself is not a large city. So, when we're talking about getting younger faculty members here, they're more attracted to more urban areas like Washington, D.C., Philadelphia, areas that are larger. We believe Charlottesville is great for raising a family but not necessarily the hub of young nightlife."
Additionally, "we're a public institution, so our funds aren't always as plentiful, compared to some private institutions, to offer incentive packages to faculty."
What Diversity Means: Types of Diversity
Even though she speaks about demographics, Beard makes sure to clarify that diversity isn't just about numbers and ratios. "There's plenty of intersectionality within groups of people who can move the needle," she says. "We're hoping to include in our job postings and searches that being mindful of diversity and inclusion is a job requirement."
One of the concerns departments face, Beard says, is "when people hear the word 'diversity,' they think it entails only gender, race, ethnicity. When really, we focus on all different types of diversity and inclusion.
She points to issues of accessibility for people who are disabled. "There is a university-wide accessibility group that focuses on the Americans with Disabilities Act," she says. "I know that that's a challenge. If I have a meeting across grounds, it takes me 10 to 15 minutes to get there. However, if I were in a wheelchair, it would take even longer just to get out of this building. And that's always going to be a challenge when dealing with older buildings."
Other issues of diversity and bias that come into play include:
Health and socioeconomic disparities
Immigrants and refugees
Sexual orientation
Gender identity
"There's a lot of different categories. We want everyone to feel included." Beard's busy world does not look like it will be slowing down anytime soon.
Beard is not discouraged. "We're moving the needle and making strides," she says. She points to the fact that, for the past six years, UVA has received the HEED award, which recognizes diversity in schools and universities.
And the work has had a positive effect on her, too. "One of the most beneficial things about being trained in unconscious bias is that I have learned a lot about myself. Hosting those sessions, I've learned how people learn and how people think of their own biases. A lot of people want to think they don't have biases, but we all do."