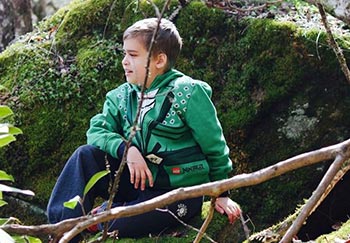 Michael's father, Michael Martinez, contributed this post. Martinez is a certified prosthetic/orthotic assistant at UVA.  
Michael was born in 2004 with cystic fibrosis (CF), a genetic disease that causes persistent lung infections and limits the ability to breathe over time. Michael had a steady decline in lung function and had to be on supplemental oxygen by the time he was 8 years old.
Michael's Lonely Childhood
Michael frequently saw providers at the UVA Children's Hospital Cystic Fibrosis Center. He was unable to stay in school beyond his kindergarten year due to poor health and frequent hospitalizations at UVA for IV antibiotic and intensive airway clearance therapy. As a student on homebound instruction, he did well academically. But with no classmates and limited ability to play with neighborhood children, he was lonely and frustrated.
Michael kept a smile on his face and endured all the medical treatments without complaint, but he was an unhappy boy behind the scenes.
Decline & Hope
Eventually, Michael was on feeding tubes and oxygen around the clock. He couldn't do the things he wanted, because his body wasn't healthy enough. He continued to decline. In 2013, when Michael was 9 years old, UVA referred us to UPMC Children's Hospital of Pittsburgh for transplant evaluation. The team there put him on the waitlist for a lung transplant.
Traveling for a Lung Transplant
Michael was offered donor lungs in September of 2013. He and his mother flew to UPMC Children's to receive his new lungs. After a few setbacks and several months of inpatient and outpatient recovery, Michael was discharged and returned home. He saw UVA providers for his follow-up care. We were happy to have our family under one roof again.
Life After Transplant: A New Boy
When Michael returned home, he was able to run and play with his friends and take up new hobbies like guitar and video gaming. He was a new boy! He went to dances and football games and roamed the neighborhood with his siblings and friends. Michael even started to learn parkour, an outdoor obstacle course activity that would have been impossible prior to transplant.
Michael even enjoyed camping and survival outings with me. We actually went on a survival camping trip with just fishing rods and backpacks. We had to figure out the rest. Together, we made a shelter and went fishing for our meals. We had a blast!
Michael truly embraced his new life and was grateful to his donor. He was thankful for the gift of the new lungs and did his best to honor his donor by doing things to help others. He would collect money and send it to the Red Cross for disaster relief. He would go out of his way to treat people with medical issues or disabilities with respect and kindness.
He was happy.
Why You Should Be An Organ Donor

Registering as an organ donor means you could be the person who gives kids like Michael a chance at childhood happiness. Pass on the gift of life: Sign up as a donor today.
A Silver Lining in a Dark Cloud
In December of 2017, Michael's body went into organ rejection, and he passed away. But Michael always indicated to us that he would like to return the gift he was so graciously given by becoming an organ donor himself. He always wanted to help people, and we honored his wishes by donating his organs (any that could be used, as he was a transplant recipient and the medications could have damaged some of his organs). He was able to donate his kidneys and his donor lungs (for research) to fulfill his wish to help other people.
Michael's story is one of joy and sadness, but what I take from my time with him is his strength.  He wanted to be a boy who could run and play. He wanted to be a boy who was not limited by his body. He wanted to be a boy who was "normal."
Michael wanted another chance to live, and he got it and was able to live his best life through the gift of organ donation. He wanted to return the favor. He did. He makes me proud.