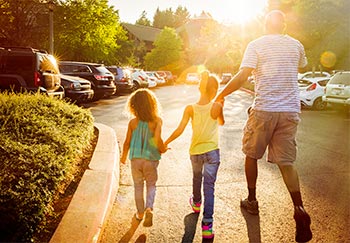 Heart Month may be long over, but being good to yourself is a lifelong endeavor. Looking for fresh ideas on how to improve heart health? We're excited to share some of our favorites — everything from the practical to the profound.
These come from your neighbors, coworkers and friends — who all read Vim & Vigor (our family health magazine). In our spring Vim & Vigor
issue, which hit during Heart Month, we asked our readers to share how they live heart healthy.
11 Reader-Contributed Tips for Better Heart Health
1. Replacing my nightly ice cream treat with frozen fruit
2. Taking karate class at age 61 and counting
3. Releasing stress with a morning yoga and meditation practice
4. Exercising/stretching while watching TV
5. Leaving the car keys at home & walking whenever possible
Get More Family Health Tips

Worried about smartphones or excessive sitting? Our current issue has info about both. Read the spring 2019 Vim & Vigor.
6. Taking yoga class with my husband
7. Parking our car as far away from stores as I can when running errands
8. Eating nuts instead of chips as snacks
9. Eating steel cut oats every morning with walnuts and blueberries and a piece of whole grain toast with avocado
10. Arriving early to my part time job as an usher at UVA sporting events and walking laps around the UVA venues for at least 30 minutes. I add a few staircases along the way as well.
11. Laughing — it is definitely some of the best medicine
How do you improve your heart health? Tell us — leave a comment!