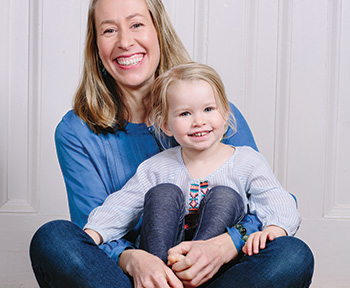 In summer 2017, Samantha Dabney, a young mom to a 1-year-old daughter, suffered a stroke from a ruptured arteriovenous malformation (AVM). As she lost consciousness, Samantha clung to thoughts of her baby. "I knew my daughter needed me in her life," recounts Samantha.
AVMs are snarled tangles of blood vessels that sometimes form in your body. They may form in up to 6 million Americans, but most people that have AVMs don't have any negative effects.
Luckily, Samantha was able to survive her stroke and is on a path to complete recovery. "There are many reasons I'm alive, but I knew in all of this struggling that my daughter was the light that kept this fire burning in me," says Samantha. Read Samantha's story.
Even Mild Stroke Symptoms Are Alarming
Although deadly serious when they strike, up to 80 percent of strokes are preventable. Before having a full stroke, some people experience transient ischemic attacks (TIAs), which are stroke-like symptoms caused by momentary interruption in the proper blood flow to the brain. According to the National Stroke Association, about half of all strokes happen within a few days after someone experiences a TIA. But, TIAs are preventable by making smart lifestyle choices.
Other Health Stories
Our summer 2019 issue of Vim & Vigor, UVA Health's family health magazine, also features these stories:
The Aging Issue
Reaching "senior citizen" age doesn't mean you can't work on your health issues. Whatever your age and health condition, making smart and simple lifestyle choices can help you feel better and extend your life.
Getting the Words Right
Feeling dizzy trying to figure out all the jargon you see in the aisles of your local grocery store? Wondering if "GMO-free" is something you should care about? Our handy guide to food buzzwords should set you straight.
The Full Issue

Read the summer 2019 Vim & Vigor.
Cutting-Edge Cancer Care
Cancer treatment tools (like surgery, chemotherapy and radiation) continue to evolve through research. Every day, we're working on providing more individualized, tailored cancer care through treatment plans that address your unique case and move at a pace that you choose. See how cancer care is looking to the future.
Throwing His Weight Around
Actor John Goodman, known for his roles in "The Connors" and "The Big Lebowski", has struggled with his weight throughout his life. In this issue, he opens up about his struggles and how he maintains his figure.