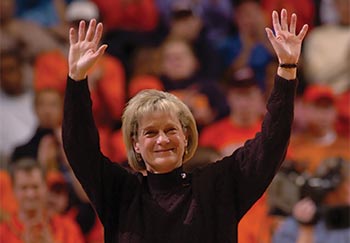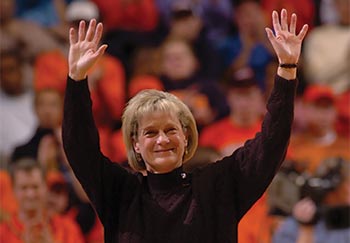 With more than 700 wins as head coach of UVA women's basketball, Debbie Ryan stands among an elite group. After retiring from coaching, Ryan is using her unrelenting drive to fight pancreatic cancer — one of the deadliest of all cancers and one she ultimately overcame.
Find more stories in our Fall issue of Vim & Vigor, UVA Health's family health magazine.
Closer to Fine: Donna's Uterine Cancer Experience
There's nothing easy about a cancer diagnosis. There's nothing convenient about fighting disease. But for Donna Brown, having a team of skilled care providers close to home meant that the words "easy" and "convenient" became part of her cancer story.
Amazing Care at the End of Life
At UVA, our caregivers save lives every day. But sometimes our role is to help families prepare for the end. A daughter who lost her father and a couple who lost their baby girl share their stories.
Read the Fall 2019 Vim & Vigor

How Coach Debbie Ryan is helping us care for orthopedic patients. Tips to keep your home germ-free. It's all in the Fall 2019 Vim & Vigor.
Do I Need a Daily Probiotic?
The bacteria in our gut outnumber the cells in our body by 100 times. The more we study these tiny organisms, the more we know how vital they are to our health. We can nourish these helpful bacteria with a healthy diet but can also get them through probiotic supplements.
But is taking a probiotic really necessary? Get the answer from a UVA gastroenterologist (aka gut expert).
Take a Women's Health Quiz
How much do you know about the bodies and minds of American women? Test your knowledge by answering 5 questions.