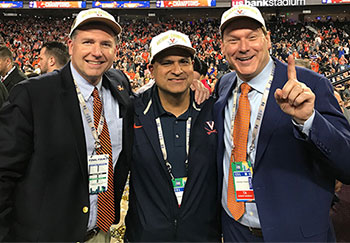 Treating athletic injuries on the spot is a lot different than seeing patients in a doctor's office. But if you go to a local high school, UVA or James Madison University game, you'll see UVA sports medicine doctors on the sidelines.
Support for Local High School, UVA and JMU Sports
UVA team physicians provide support for most of the high schools in the area. This includes Albemarle, Charlottesville, Monticello, St. Anne's-Belfield, Covenant, Fork Union and others.
Usually, first-year residents are paired with more senior-level residents and assigned to a local team for each home football game. The most experienced sports medicine doctors mentor them and cover games as their schedules allow. UVA sports medicine clinics have daily openings to see athletes and the physicians work directly with athletic trainers at each school to coordinate the athletes' care.
The sports medicine team manages over 800 student-athletes at UVA and takes care of a broad range of injuries.
UVA physicians have also been serving James Madison University athletics since 2003, with Mark Miller, MD, being the first doctor to cover the neighboring school. After 15 years as a JMU team physician, he passed the torch on to Brian Werner, MD, last year. Werner is now the head orthopedics team physician for JMU and helps cover several different sports. Miller continues to treat athletes of all ages and abilities at UVA.
"It's a different environment than taking care of patients in an office. So, you're often on the sidelines of the events, watching the patients as they get injured," says Werner. "Then there are interactions with athletic trainers, the athletes themselves, parents and the coaching staff."
Learning to Treat Concussions in Real Life
"Typical medical school and residency education doesn't handle how you cover an event, how you manage injuries and other situations on the sidelines," says David Diduch, MD, head team physician for UVA sports. "You don't really get heat illness management, concussion management, things like that."
So Diduch started an intensive, one-night training session. The session is held each August before football season starts. Typically, UVA residents in orthopedics, physical medicine and rehabilitation, and family medicine participate. Team doctors from James Madison University and the University of Richmond and trainers from area high schools also come.
One key topic Diduch's training covers: Sideline evaluation of concussions and head injuries. Participants learn about the standardized assessment of concussion (SAC) score, a numerical evaluation system that helps doctors determine if an athlete has a concussion.
This topic has become even more important as knowledge around sports-related concussions has improved in recent years.
More Than Just Sports Medicine Doctors
But even if you're not competing in an NCAA tournament, UVA orthopedic specialists work to get you back to what you love. That might be running a 5k or just playing with your grandkids.
Have a Sports Injury?

Learn more about our sports medicine services.
"I find that patients are very reassured to know that the same level of care we provide for our student-athletes, we also provide the surrounding community," says Joseph Park, MD.
ACL injuries are one of the most common injuries for everyone, athlete or not. UVA orthopedic surgeons also perform a large number of rotator cuff repairs, knee surgeries and hip arthroscopies.
Winston Gwathmey, MD, notes that, while he is proud of his work caring for the JMU and UVA varsity teams, his patient roster extends far beyond elite college athletes.
"It's really a whole team of folks," says Diduch. "We got a lot of brains working together to provide the very best possible care. We can deliver that to this community, which is a tremendous opportunity for anyone coming into our office with a problem."
UVA's new orthopedics facility is on track to open in 2022.